I spent several years living in Fairbanks, and it's honestly one of my favorite places in the entire world. There are interesting people, great stories all around, and it's such a unique city. I spent my graduate school years up there, plus a couple extra, and it's safe to say that Fairbanks has a very special place in both my life and my heart.
So a common question I'm asked by people thinking about going to school there or traveling up there is whether or not you can get around Fairbanks without a car. There are some caveats, asterisks, and complications related to going into this topic in full, but we'll cover those in a moment.
The good news is that there are multiple ways to get around Fairbanks Alaska without a car including a great bus system, walking, organized day tours, taxi cabs, Uber/Lyft, and even hitch hiking.
Fairbanks is a surprisingly sprawling city for only 35,000ish people (and that's even including the Air Force base) so you will want to make plans for how you're going to get around and see everything that you want to see.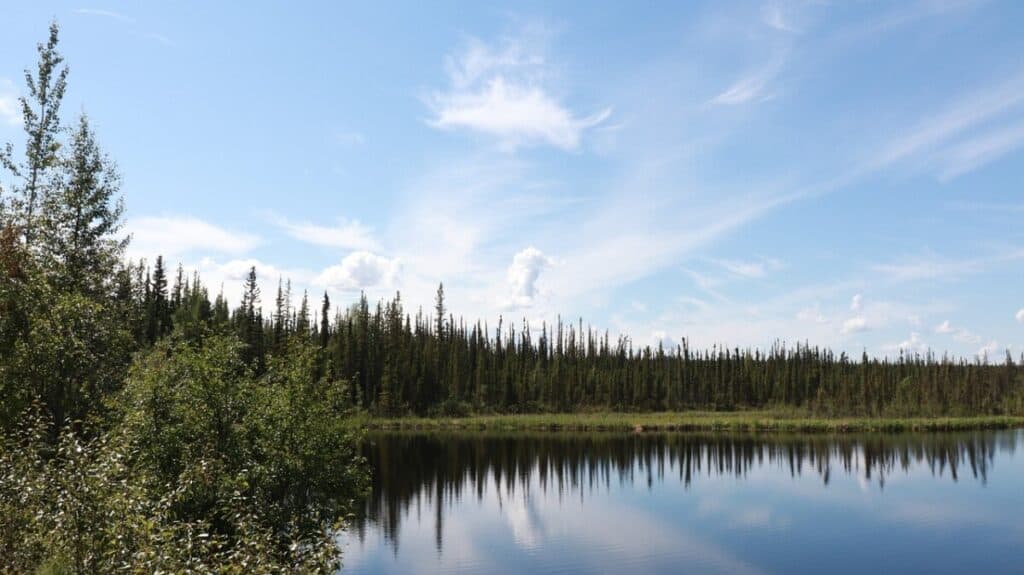 Fairbanks Alaska Has A Good Bus System
The Bus System does a good job of getting locals and visitors around town. This is a unique system focused on hitting major points but also having side routes that hit up relatively far away but important areas or sights in the city.
The Fairbanks public bus system is referred to as the MACS and has busses that not only run through Fairbanks but also up Farmer's Loop Road and into nearby North Pole Alaska. A day pass is only $3 making it an absolute steal for the value you get, and the Eight different bus lines that currently run in and around Fairbanks are color coated and their maps and schedules can be found here.
If you're used to very short routes that hit every stop in 15-30 minutes you might be a bit surprised, but keep in mind that Fairbanks is a huge city from a size/area perspective. One thing central Alaska has in droves is open land, so it is sprawling city that covers a surprising number of miles.
It's not hard to find the map routes and to get a sense of how long each one is, but just be aware some of these routes can be on the longer side.
Fairbanks Streets Are Made For Walking
Fairbanks is a city where you can walk about anywhere if you have the energy and are willing to put a few miles to the pavement. The sidewalks are wide and generally in good shape, with some overpasses that allow you to pass over semi-busy streets without having to slow traffic or worry about being on ground level. There are less of these than there used to be as some were removed in the past decade (fair – one I used the most looked sketchy all the way back in 2003, but it held up fine the years I was there) at certain points these are still there to make walking easier.
Where they were removed, wide sidewalks were often build into the side to make sure there's more space for walkers to get around town safely. The downtown is very walkable and because there's no need for the city to be tightly packed together. There's always more space to adding additional sidewalks and walking space happens as the city expanded over time.
Now with all that said, while Fairbanks streets are made for walking, and while having thousands of visiting tourists walking around has gone into city planning with a series of excellent overpass walkways so you don't have to worry about crossing many big roads at bad points, that doesn't mean the city of Fairbanks is designed for fully hoofing it.
A "casual walk" from the University to Fred Meyer's is 1.5 miles one way, meaning that run for cheap chimichangas from the Fred Meyers kitchen you're looking at a 3 mile minimum not including parking lot, wandering, or the extra quarter of a mile walking distance if you're staying at the UAF apartments over the summer while visiting (highly recommended).
If you're like me and love long walks, hiking, and don't mind just making your way around town at a relaxed pace, you can absolutely get around Fairbanks on foot, and in the summer it's downright pleasant – with plenty of interesting people willing to chat along the way.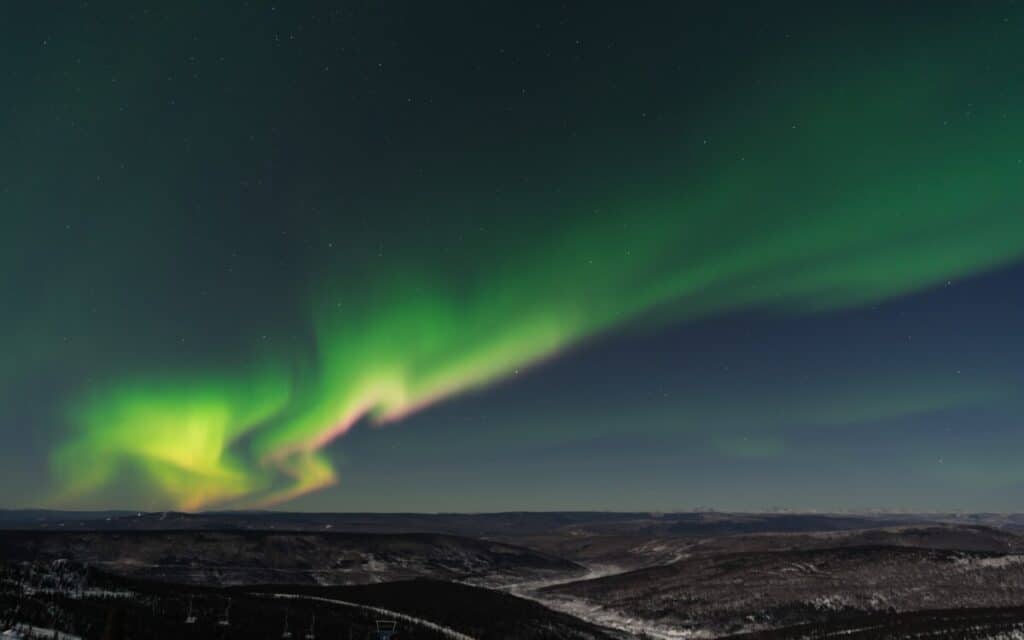 Walking From University of Alaska Fairbanks
One of the better places to stay are the apartments at the University of Alaska Fairbanks. On the edge of town by Farmer's Loop, the apartments that are used by students during the year and some graduate students who don't want to go with the dry cabin route, these are rented out to visitors with students working as daily housekeeping.
Getting a 2-bedroom apartment with full-sized fridge, microwave, oven, kitchen, and furnished living room at a decent price that supports the school. You're also right by literal miles of hiking trails that weave through the campus.
While on the far side of one part of Fairbanks you are on the University which means you're by the Museum, the hiking trails and lake, the Botanical Gardens, and a large array of popular local restaurants, coffee shops, and bars. There's plenty to still see on that side of town on and off campus.
While walking all the way downtown might be a bit much from that location, there's still plenty to find on foot and there's very little trouble getting an Uber or Cab to take you downtown.
The following is a fantastic drone video of the University of Alaska Fairbanks…and since the main section of campus sits on top of a hill, you get some glances at the sprawling nature and city of Fairbanks itself, peeking out of the thick forest canopy.
Walking in Downtown Fairbanks Alaska
Downtown Fairbanks is designed to be visitor friendly and you can easily walk around. There's very limited traffic in a city the size of Fairbanks, and the main highways go through town but generally don't head into the downtown. The downtown is home to a combination of new businesses and old, new buildings and old, creating a mixture of Alaska that has a lot to offer.
The downtown area is extremely walkable and there's a good amount to checkout. If you like to visit in the off-season, the harsh winters even have offerings like major ice sculpture parks, winter celebrations, and more. Explore Fairbanks is a good website that focuses on the local tourism attractions and what the city has to offer visitors regardless of season.
I only visited the downtown once or twice but enjoyed both trips. The whole city has its neighborhoods, it's local bars and coffee shops, local restaurants and places worth checking out, and a stunning number of parks, campsites, and nature right in the city itself that are open for business during the summer season.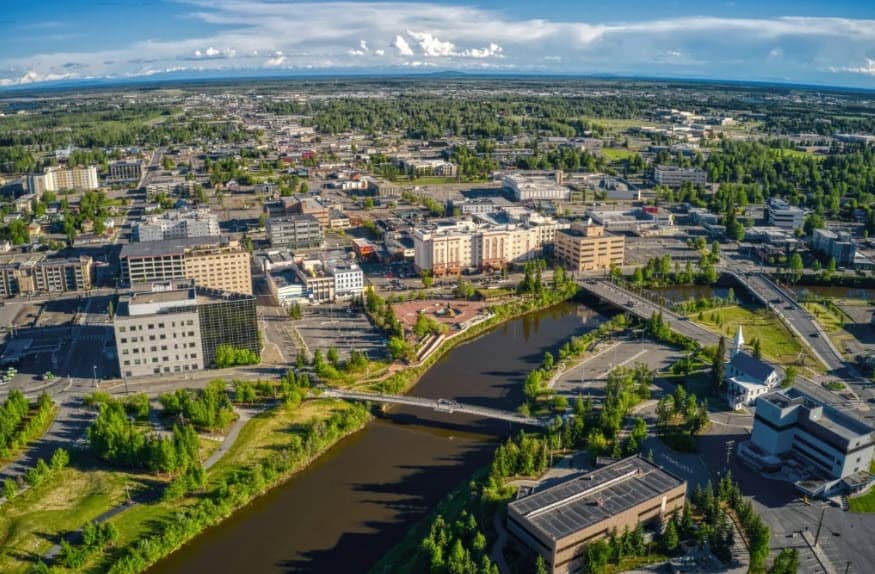 Cab & Tour Companies in Fairbanks Alaska
There are multiple cab and tour companies in Fairbanks. Some offer daylong tours with plenty of time to look around, or the ability to walk away at any point, others offer pure cab services, and some offer both. While these were the ones that were most active last time I checked, it's worth always checking up on what Fairbanks Alaska cab companies are still active.
There is no shortage of decent choices so if you need a ride across town but don't want your own car, you have plenty of options.
Moose Cab & Tours
Moose Cab & Tours is a popular option that offers both organized tours of the city and surrounding areas, as well as basic taxi services at any time of the day or night. This combination is popular with many visitors because it offers not only the ability to see places but to experience things and Moose Cab & Tours does a great job of having tours set up for every season.
This includes dog sled tours in the winter, as well as tours to see the Northern Lights (which you definitely can't see in the summer since there's no night). There are trips to Chena Hot Springs, North Pole, or you can even call and ask about custom tours in the area based on your specific interests and see what you get back as a possible itenerary.
Then there are the cab services for when you meet a lot of fun people on those microbrew and bar tours and just need a ride back to the hotel at the end of a long night of exploring what Fairbanks has to offer!
Website: Moose Cab & Tours
Greatland Taxi & Tour Services
A longtime mainstay of the Fairbanks area, Greatland Taxi & Tour Services is another cab company always willing to offer a pickup in and around the Fairbanks area not to mention multiple tour options depending on what exactly you're looking for.
This is another great option and offers visitors who don't want to spend all their time walking or biking another option to get around and see what the greater Fairbanks area of central Alaska has to offer to adventuring individuals.
Website: Greatland Taxi and Tour Services Facebook Page
King Cab and Alaska Cab
One of the best known cab companies operating out of Fairbanks, Alaska, they have over three decades of experience operating out of the city and know the entire area inside and out. Wherever you want to go, they know the way, and can provide plenty of suggestions when it comes to places you may want to check out locally based on whatever your specific interests are.
These companies both operate under one company umbrella, and it's worth knowing that they provide reliable service to, from, and around North Pole, Alaska, as well. They are one of the most used fallbacks for anyone looking for a cab in the area, even among the locals.
Website: King Cab and Alaska Cab
Arctic Taxi
An Alaska owned and operated cab company that focuses on taxi services as well as road side assistance and transportation. They don't focus on guided tours of any king but giving the immediate needed transportation from point A to point B.
Another great locally-owned option for visitors to Fairbanks.
Website: Arctic Taxi Website
Uber & Lyft Are Options in Fairbanks, Alaska
Some people are surprised to learn that Uber and Lyft are options in Fairbanks, but they shouldn't be. It's a moderate sized college town that gets plenty of tourists during the summer months. That means a demand for driving services, and there are plenty of Fairbanksians who don't get much sleep in the summer when the sun doesn't go down, and fill that time giving rides and chatting up visitors.
Uber and Lyft are available even in this small city far, far to the north, though keep in mind during heavy demand hours there might be a bit of wait due to the limited number of drivers and large sprawling size of the city.
Get A Bicycle: "People of the Bike"
After some time in Fairbanks I once wrote an essay about Fairbanks being a city of "The People of the Bike." Aside from never having seen an actual Penny-Farthing bicycle in use before my time there, many people living in the cabins that surround the city of Fairbanks on all sides in all directions rode bikes. Many of them in the winter. Over ice. With one or no hands. And I never saw anyone fall.
The comparison in my mind was if the Mongols during Genghis Khan's time were people of the horse, then those who lived on the outskirts of Fairbanks were people of the bike. Bicycles are everywhere, and a lot of the expanding or continued building of sidewalks to add to the infrastructure over the past couple decades have kept this in mind, making wide sidewalks with plenty of space to use on a bicycle.
Unfortunately, if you're not a student at UAF then you are going to have limited options especially for renting a bike, and buying one might seem a bit extreme, but that depends on your situation. If you love biking and are going to spend a week, several weeks, or more in the area, buying a bike could make sense.
Even for a week, if you were going to need 1-2 cab rides a day at $30-40 a pop, that's several hundred dollars. A decent used bike could be cheaper depending on how much moving around the city and surrounding area you would do.
If you're going up for a summer and don't want a car to get around Fairbanks Alaska, then you should definitely look at a bicycle to help you get around and see all the amazing things the area has to offer.
Fairbanks Alaska – You Don't Need A Car To Get Around!
While renting a car during the summer months can make things easier, especially if you're hoping to explore more of the wild country to the north or take a drive to south to North Pole Alaska or visit the famous Chena Hot Springs, it's not necessary. Fairbanks is a city that gives you plenty of options for getting around without a car, and knowing these options helps you to more fully plan out your time in Fairbanks without any issues.
I loved Fairbanks and have been back multiple times since moving. I don't get back as often as I'd like, but it's a delight every single time. I lived in Fairbanks for years without a car or even a driver's license, so I know firsthand just how possible it is.
Other Alaska Travel Articles of Interest