Alaska is a state that has fully earned its name of The Last Frontier, and is a truly incredible state to both visit and live in. Those were some of the most exciting years of my life and I love returning to a state unlike any others to visit my friends who have stayed there.
The question comes up often from West Coast readers: do you need a passport to travel to Alaska from Washington? There's an easy answer to this.
If you are an American citizen you do not need a passport to travel from Washington to Alaska if you're flying or taking a cruise without any stops, but you will need a passport if you are on a cruise that stops in Canada or if you're driving since this requires passing through Canada.
That's the full end-all, be-all of it, but we can break down each section, the reasons why, and the options you have (or don't have) when you are looking at traveling from Washington to Alaska, or vice-versa.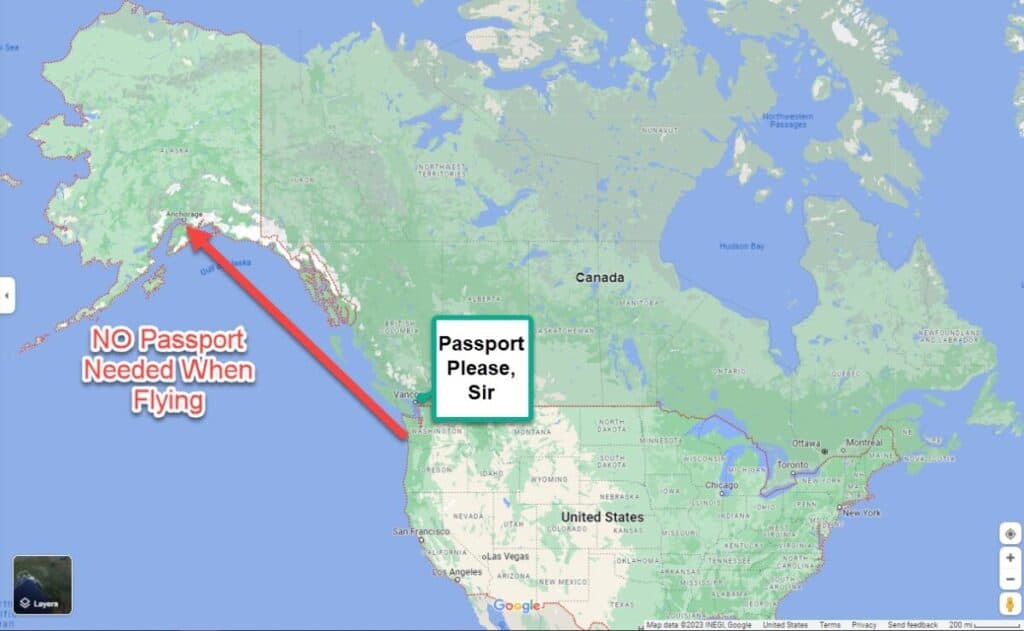 You Don't Need A Passport To Fly From Seattle To Alaska
This is starting with the assumption, of course, that you're a U.S. citizen, but the main question of whether or not you need a passport to go from Washington to Alaska is phrased in such a way that it's likely coming from there.
Since Seattle to Anchorage or Seattle to Fairbanks is going from one part of the United States to another no passport is needed as long as you are flying. That is not the case with other methods of travel.
You Probably Need A Passport To Take A Cruise From Seattle To Alaska
The main reason for this is that all the ferries or cruises I saw stopped in Canada on the way up to Alaska. This makes sense because it's such a long distance to travel and British Columbia has some of the most beautiful natural scenery in the world, not to mention awesome coastal towns and cities that fit in perfectly with an Alaska cruise.
If you do find a ferry or direct route from Seattle that doesn't stop in Canada you don't need a passport. That said, the overwhelming majority I see stop in Canada meaning you will need a passport even if you weren't planning on getting off the boat.
Even in the off chance you find one that looks direct, make sure to check to see if you'll be allowed to board without a passport.
You Definitely Need A Passport To Drive From Seattle To Alaska
This shouldn't be a surprised. You need a passport to enter another country and if you are driving from Seattle to Alaska it doesn't matter that you start in the United States and end in the United States, since you have to pass through Canada that means you now need a passport.
This wasn't the case 30 years ago back when you did not need a passport to go to and from Canada but post 9-11 the U.S. Canadian border isn't open so driving is out unless you have an up to date passport for both border checks.
Do You Need A Passport To Drive The Alaska Highway?
Yes. Since the majority of the Alaska Highway passed through Canada, even as a U.S. citizen you need to have a non-expired passport to drive the Alaska Highway. You don't need a passport to fly from Washington to Alaska, however.
If you have the time and money to make that trip, it is worth the passport as this trip is a "once in a lifetime" style of a trip that is truly next level amazing and reveals to you some really incredible scenery not to mention cities that are out of the way enough you're not likely to see them again unless you go out of your way to do so.
What Happens If My Passport Expires While In Canada?
If your passport is that close to expiring, they probably won't let you in. If you spend a long time in Alaska after driving there and it expires, you need to renew your passport or end up flying home.
Use Common Sense For Alaska Travel & You'll Do Fine
The rules of normal passport travel apply. If you're just flying over Canada or aren't directly passing through you will be fine. If you are going to be driving or on a boat that will stop in the country, you'll need a passport to make the trip.
However, if you're itching for a sudden adventure while in Washington and you find a cheap round trip ticket to Alaska – go for it. It's a trip you won't regret!
Other Alaska Travel Articles of Interest