Fairbanks is definitely a one of a kind city, and I treasure the memories of the four years I lived there. The experience was unlike any other I've had in my life before or since, and I've had a pretty dang good life as far as experiences go. Fairbanks is the largest city in the interior of Alaska, and it's quite a special place unlike anywhere else where I've lived.
Fairbanks is the third largest city in Alaska, barely trailing a few hundred people behind the city of Juneau. Fairbanks is also the biggest city by far in the Interior of the state, and it's the main hub from which all other towns in the Interior are going to satellite around. This is where I spent most of my early to mid-20's and it's an awesome place to locate to.
Whether it's a job, school, the military, or pure adventure that has you looking to move to Fairbanks, there's a lot to love about the Golden Heart city, and the city and its people are never far from my heart.
Here's all the information you need to know about moving to Fairbanks Alaska.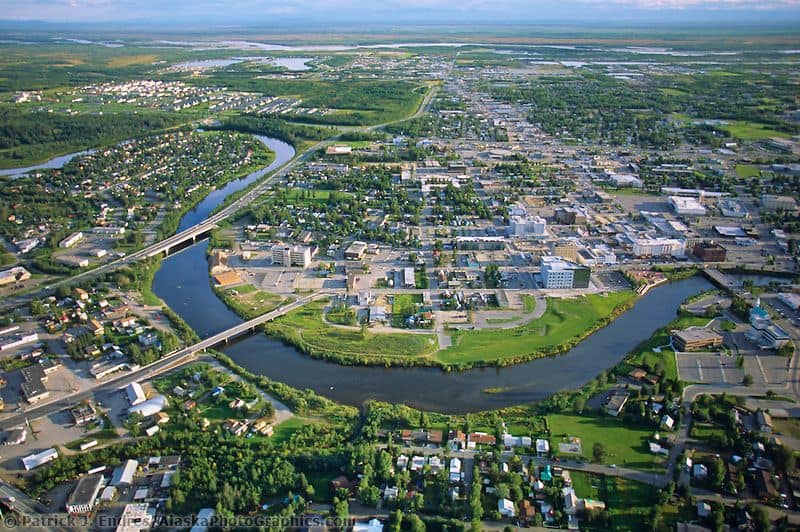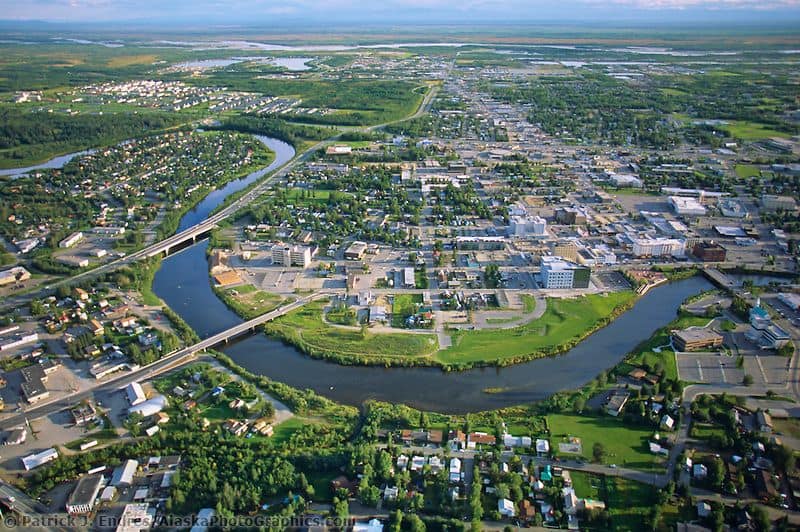 Getting to Fairbanks
Fortunately, Fairbanks is one of the easier places in Alaska to reach when it comes to moving. While no place is going to have as many options as Anchorage, it's very easy to argue that moving to Fairbanks is much easier than other challenging Alaska spots like Kodiak, Barrow, or even Juneau. Anchorage is still the main entry point for most ships and planes into Alaska, but Fairbanks has more options than most other cities or small towns throughout the state.
This means more viable options for shipping your stuff from the Lower 48, or even overseas, transporting things by plane, or even driving. While there are certainly challenges to moving to Fairbanks, there are also many more options for being able to find support to overcome those obstacles.
Driving to Fairbanks Alaska
If you are driving via the Alcan Highway, aka driving from the Lower 48 and through Canada to get to Alaska, then you are going to end up in the Interior of Alaska, most likely in Fairbanks or just south if you take that route, for some reason. This means it is possible to drive to Fairbanks with a loaded up moving truck…though whether that actually makes sense or is the best way to go could be another story.
And that's even in years where the Alcan Highway ("The Alcan" is what northerners call the Alaskan-Canadian Highway) isn't washed out.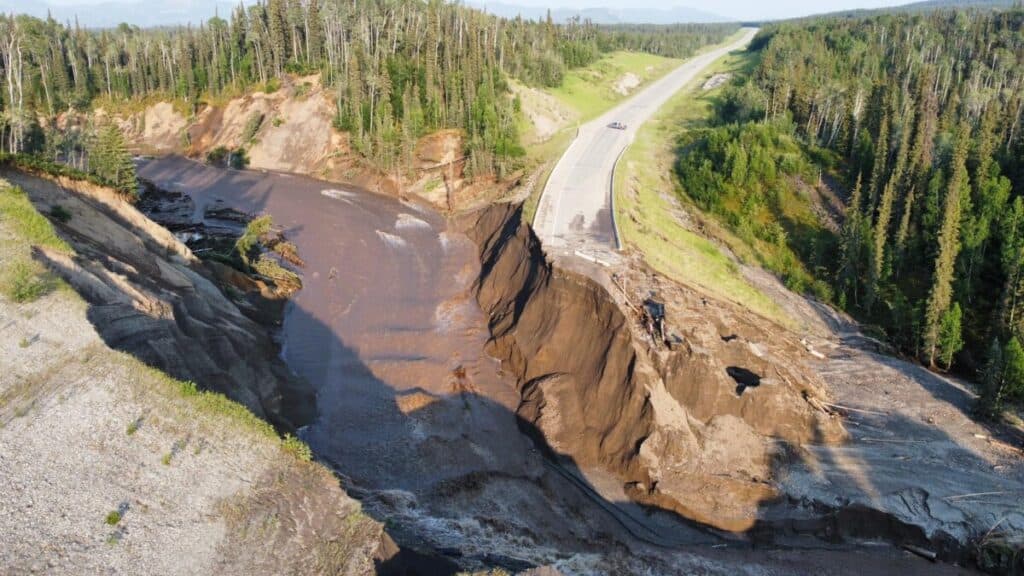 However, most years the connection is there and although a route from the Lower 48 to Alaska will cut through Canada (therefore requiring a passport and permission to travel through) it is a viable route.
Just make sure you have spare tires, plan out the trip, and have emergency repair money to the side just in case repairs are needed or a worst case scenario (like hitting a moose) happens.
The trip is viable most times of the year (not in winter) and while it won't be time efficient – it is the trip of a life time and that alone might make it worth pursuing. I go into more in the Can I Pull a Travel Trailer to Alaska article.
Fairbanks International Airport
While it's not as large as the airport in Anchorage, Fairbanks has its own international airport, and it's a respectable one with both flights internationally and to the Lower 48 direct in addition to shuttling people frequently to and from Anchorage every single day.
If you're the type who can move with just a couple of suit cases or a carry on bag, this makes for an easy solution to get into town and then slowly build out your living space from there.
For most of us, we'll need a little bit more, but knowing there is a major airport and thus more freight shipping options that come in more than once or twice a year opens up the options.
Or you can use conventional freight to Anchorage, then shipping to Fairbanks while using the airport just to move yourself and a couple of bags.
Freight Shipping to Fairbanks Alaska
When moving big objects via shipping (aka freight) it's either reaching Alaska by ship (most likely) or cargo plane, and either way that means it's going to Anchorage before heading further in-state, requiring pick up, or whatever other arrangements are then made to get your stuff the rest of the way to Fairbanks.
There are multiple options, but keep in mind the prices are likely to be very expensive, even compared to freight shipping in general. There's a reason that even basic mail to places like Hawaii or Alaska are much more expensive. The weight, size, and challenges of shipping freight to places this isolated or far away only compound those potential issues.
Just a few of the options for freight shipping to Alaska are:
Some of these only work for boxes that weight 50-100 lbs, while other companies specialize in moving vehicles, furniture, and other larger ticket items. The cost, time, and other considerations will be based on what you actually need.
These are just some of the options – there are many others, but it goes to show that if you are going to bring some furniture or larger amounts of possessions with you, then you will need to spend time comparing and contrasting competing freight companies to figure out who is trustworthy, reliable, and can get it done for a reasonable price.
Should You Move Your Stuff To Fairbanks Alaska Or Sell It And Start Over?
There isn't a clear answer for this one. The first time I moved to Fairbanks the decision was easy. I was 21, a full year out of college, and still had plenty of friends around who would buy any TVs, gaming systems, or furniture I owned as I moved half way across the hemisphere. So I sold a lot for cash and moved with a suitcase and a travel bag.
Most of you looking to move to Alaska probably aren't set up to make that clean a break.
Because of that you need to measure the cost of shipping large items versus selling them or paying for storage long-term as opposed to buying new furniture once you get to Alaska. While the furniture, or things like cast iron kitchen set will cost a lot more in Fairbanks than in the Lower 48, once you figure in shipping for major freight, it might or might not make sense.
There are many considerations to look at when trying to decide whether or not you should move your stuff or just buy new once you get up there. This is where doing some research to get hard numbers on the costs of moving your stuff makes a difference.
My personal recommendation: If you don't have anything that has major sentimental value such as a family heirloom, or something that was a gift from a deceased friend or relative, I'd sell and buy once you get up there. There are people moving out each summer and fall, as well, which means plenty of furniture, kitchen items, and other materials will be available if you're willing to do a little legwork while up there which also helps you learn what the area has to offer.
Fairbanks Alaska Moving Resources
There are many resources available to help those of you moving to the Fairbanks area, and taking advantage of them makes sense. A move to Alaska isn't easy, even if it is one of the main cities, so taking advantage of the resources there is just good common sense. Locals will be able to welcome you to the community, quiz you on preparations you might not have thought of (or been aware that you needed to consider) and help smooth the transition.
The following are some of the best moving local Fairbanks Alaska resources that can help meet the many needs you will have when coordinating a move to this unique way north town.
Moving Trucks and/or Storage Resources for Fairbanks Alaska
Fairbanks Alaska Realtors
Madden Real Estate – Very well known and extremely well-rated local real estate service that has been matching up new residents with homes for decades.
Empire Realty – Empire Realty has been active in Fairbanks for over 15 years and specialize both in managing local real estate as a property management company as well as helping new residents find the right home to meet their specific housing needs.
Hedgecock Group Real Estate, LLC – Great local realtor who has, in my opinion, the best site to search listings and get an idea of what's available not only in Fairbanks, but also in North Pole and the surrounding area.
Nic Williams Summit Realty Group – Another outstanding option with a very active social media that keeps followers up to date on what's going on in the area and what's coming up in the market.
Summit Realty Group – More recent group with multiple great realtors who know the community, love the community, and want to help you find the right house in the Fairbanks Alaska area.
Google for an up to date list! Just because a realtor is new or has less reviews doesn't mean they're not great. You have to truly love an area and be passionate to embrace the challenges that come with a remote city like Fairbanks, and there are amazing professionals joining the city's ranks all the time so why not give them a chance to go the extra mile and find you a great local Fairbanks home!
Fairbanks Alaska Rental Listings
It's also worth mentioning that if you're looking for a cabin or house rental, it's worth showing up early and just doing a walkaround or getting a word of mouth recommendation. There are a lot of locally owned rental properties.
Other Resources
Fairbanks Alaska Rental Options
There are a variety of housing options when looking at Fairbanks, and there will be both pros and cons to each one. I've had apartments, on-campus housing, and even cabins. No military housing for obvious reasons having never served in the armed forces (but thanks to all the veterans for your service), but I've either lived in or seen the other options in the area – including yurts.
Apartments
Just like any other city or decent-sized town, there are apartments available. These can range from cheap ones mainly aiming at college students looking for someplace cheap (avoid any first floor apartments if they are subterranean. Trust me on this one – seen too many with water pouring in from the ground level windows.
There are also high-end apartments that could be out of any popular city, come pre-furnished, and those fourth story ones have some impressive views that, along with indoor plumbing, are definitely worth the slightly higher rent rates.
While every city has its basic apartments, mid-level apartments, and nice apartments, if you have the funds Fairbanks is a city where I would contemplate going mid to higher level if you can because the challenges of the environment mean when things go bad in a cheap apartment, they can go really bad (see waterfalls of melting snow into a basement apartment in spring example).
Pros:
Wide variety of options, including some very nice furnished apartments
Don't need to deal with unique challenges of owning property in Alaska (especially during winter)
Allows you to get used to the city and learn about local resources before committing to a buy
Indoor plumbing
Cons:
Can be quite expensive, especially for modern apartments
If you're craving the "Alaska experience" a pre-furnished apartment with Wi-Fi can make Fairbanks "feel" more ordinary
You are likely locked in for a 12 month lease
Cabins
Cabins are a very common rental option. In fact, this is where I lived off campus at the end of my grad school days, a mere 1.5 mile walk from campus that seemed much longer than that when it was -44 degrees out (I know, shocking).
There are many available cabins and these range from the very rustic with no running water (most of these are dry cabins so unless the listing explicitly states it has septic or running water, then assume that the cabin is dry – no running water, and an outhouse) to closer to town cabin options that have water and septic tanks where you need to pay for water, but that gives limited showers and toilets.
Those will cost more, and there are as many options as there are cabins, as there are literally many hundreds, if not actual thousands, of cabins surrounding a 5-10 mile ring all around the city of Fairbanks.
Pros:
Much cheaper than the average apartment
Can still be very cozy in the winter
Can sometimes go month to month or pay cash for rent
Generally landlords don't care about you throwing cabin/bonfire parties
Can meet interesting people just from wandering the gravels in summer
Cons:
Almost never running water (and running water cabins will be more expensive)
Will almost certainly use outhouse
Roads to cabins are often the definition of low maintenance
Very cold, dark, and potentially lonely in the winter
Houses
There are houses up for rent and this can be a great option, or if you're looking for a permanent solution there are houses for sale, as well. Many people who might potentially be in Fairbanks for a long amount of time might want to rent a house for a year to make sure they adapt to the environment well in all three seasons (Summer, Winter, Mosquito – which includes all of Summer).
Houses have their shares of benefits when it comes to Fairbanks living options, and are worth checking out if the following pros outweigh the cons for you.
Pros
More living space
Indoor plumbing
Having a full house can help adjustment into living in such a unique new place
More likely to have good Internet, cable, etc available
Landlord responsible for major repairs
Cons
Likely very expensive
There are some rough neighborhoods in Fairbanks, so location matters
Delays in repairs can feel especially problematic because of the extreme seasons.
Fairbanks Buying Options
The buying options for around Fairbanks Alaska will basically be buying bare land, a cabin, or a house. These are all valid options, and each has its pros and cons. Houses allow you to get into the real estate market and find a place with laundry, full kitchen, and just having your own personal space. These are major positives and ones that, trust me, you come to appreciate if you ever find yourself renting a duplex cabin with a noisy neighbor.
Cabins come in many sizes and shapes from your basic A-frame or split log model to some pretty sizeable cabins that would qualify as a decent sized log cabin house. Unless it's the latter, these tend to be less expensive, and can give you additional privacy as you'll be outside of town at least a little bit. These can also be a good starting property in case you don't know how long you will be living in the area and you can always upgrade if you're there in the long-term.
Finally, there's very little regulation in Alaska. If you can buy some land and have the carpentry skills to do it, you can build it from the ground up, designing and building your own cabin and creating that value.
This is almost certainly a multi-season or year project in many cases unless you have a lot of experienced help, all materials in place, and the area cleared from the get-go. It's cheapest starting, and from a real estate perspective, it's literally creating a lot of value. You get to customize where you live (to some extent) and can stay long-term or cash out later, but that will be a ton of work upfront.
Cabin or House?
There are many, many cabins available for rent around Fairbanks. There were not hundreds, but a good couple thousand or more even when I lived there years ago, and more were being built. As a student I spent a year in the cabins and I don't regret that time – I enjoyed it immensely and since I was going to school I had access to the public showers at the university the lack of running water wasn't a problem.
Cabin rentals tend to be much, MUCH cheaper than apartments and they can be very close to the city (1-2 miles from downtown even) so it's not like you're in the middle of nowhere even if it can feel like it surrounded by trees and the occasional other cabin.
Any Cabins with Running Water?
There are some cabins that have a limited amount of running water. Generally speaking, this isn't going to be plumbing but having a water tank of likely 500 gallons, which needs to be refilled once a month. These aren't especially common, but some exist and that tank does allow running water, showers, etc in that one and only one cabin.
Unless otherwise advertised, assume the cabins don't have running water and you'll have to fill up at a free spring or a water station in town, and assume that any cabin outside of town will not have plumbing but will have an outhouse. Even most houses just outside the city will be set up the same way.
Moving to Fairbanks: In Conclusion
I adored my years in Fairbanks despite the challenges, and if you moving there for either job or school, there's a lot to love about the city, the locals, and how adventure is just a couple steps away. This is a very unique city and the experience of living here is something I wouldn't trade.
Take some outside walks bundled up in winter to catch the northern lights, order the decades' famous Combo Platter from The Oasis, and check out all that this incredible and unlikely city in the middle of nowhere has to offer.
Other Alaska articles of interest