Denali National Park is one of the most popular attractions in Alaska, and indeed one of the most popular National Parks among frequent U.S. travelers. Anyone who has spent even a short time there can tell you those feelings are understandable.
Denali is the tallest mountain in all of North America and an important place to many of the indigenous groups who live in Alaska. The park is surrounded by true wilderness on a level that very few states can offer, but Alaska is certainly one of them. This is one of the most visited areas in Alaska, which brings up the question of how do tourists get around Denali?
Traveling to and around Denali without a car is easy and can be done by train and bus via guided tours. Adventurous individuals can even explore parts of the park on foot or bicycle.
The good news is that there are many ways to get to and from Denali, and to also get around to see everything Denali has to offer, without a car. Let's jump in!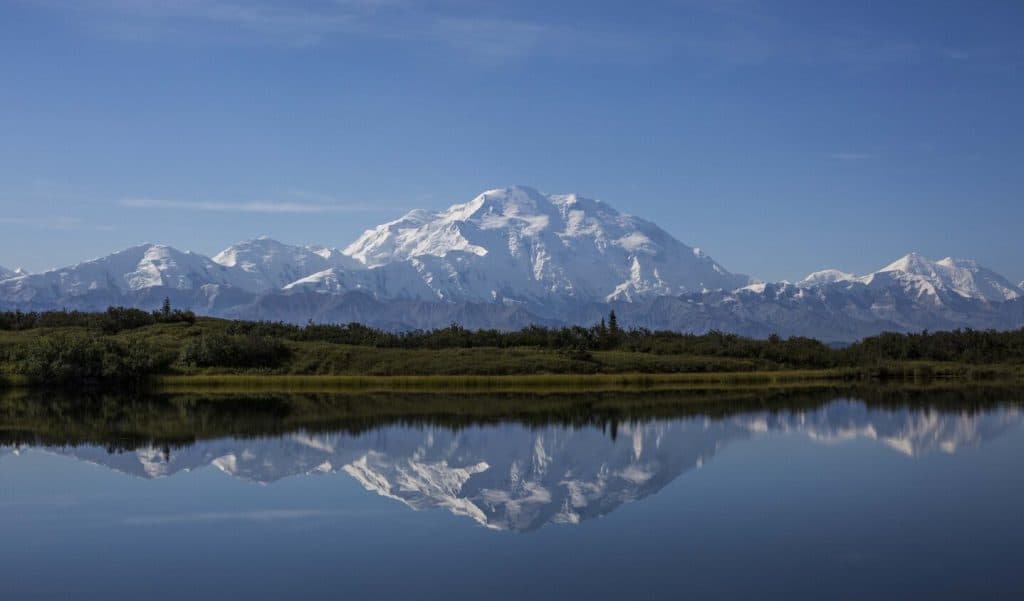 Get to Denali by Train
Many people wonder if it's possible to get to and from Denali by train. This makes a lot of sense as a train ride through the state of Alaska is something special but there are very limited routes. Fortunately, the long route that connects Anchorage and Fairbanks does indeed go through Denali. Meaning there are train rides that both go from Anchorage to Denali as well as Fairbanks to Denali.
So what are the differences between these routes? Is there anything important or special to know about either one?
Good news: you've come to the right source to find out 🙂 One thing I will say from experience and many tourists I've talked to while living up there have said: you should plan on taking the train there, staying for at least two days to really explore the park, and then leave the next day.
People tend to underestimate how big the park is, how long the train rides are, and if you are going to choose a place during a multi-week Alaska adventure where you just want to take a day and not do anything but bum around, why wouldn't you choose a place like Denali where "bumming around" actually still gives access to so much?
Anchorage to Denali by Train
Anchorage is home to the largest station for the Alaska Railroad so getting on the train isn't a problem. When trains start can actually vary a bit from season to season so contact them ahead of time. I've been there when the 3rd week of May already had tourist trains, and in another year they were still closed for two more weeks.
The official site of the Alaska Railroad's page on the Denali Star Train is here, so you can always check for the most up to date information directly from the Alaska Railroad.
This is a gorgeous train route and a fantastic way to get from the main transportation hub of Alaska (Anchorage) to the majestic Denali National Park. Keep in mind it takes a good chunk of the day to get there, so don't plan Denali as a day trip (why would you want to anyway when there's so much to see and do?
Fairbanks to Denali by Train
There are two options coming from Fairbanks. You can make a "quick" one-day trip where you go Denali from Fairbanks, enjoy the park for part of the day, and get back to Fairbanks by late evening. There's nothing wrong with this if you're on a schedule and if it's that or don't take the train or don't check out Denali at all – definitely go with the full day "day trip."
The other is to take the train there, still spend two days enjoying the scenery and exploring all the amazing things and experiences this park has to offer and then heading back…or down south if you started your Alaska experience further north than average.
Denali Only Allows Cars to Mile 15
One of the major facts that should help assuage your fears about not being able to see Denali National Park without a car is the fact that to protect the national park, no private cars are allowed past the Mile 15 mark. There is a special lottery that allows a limited number of vehicles further in, but for the most part it is tour busses and permitted travel only past that point.
In fact, have a look at this wonderful map provided by the National Park Service: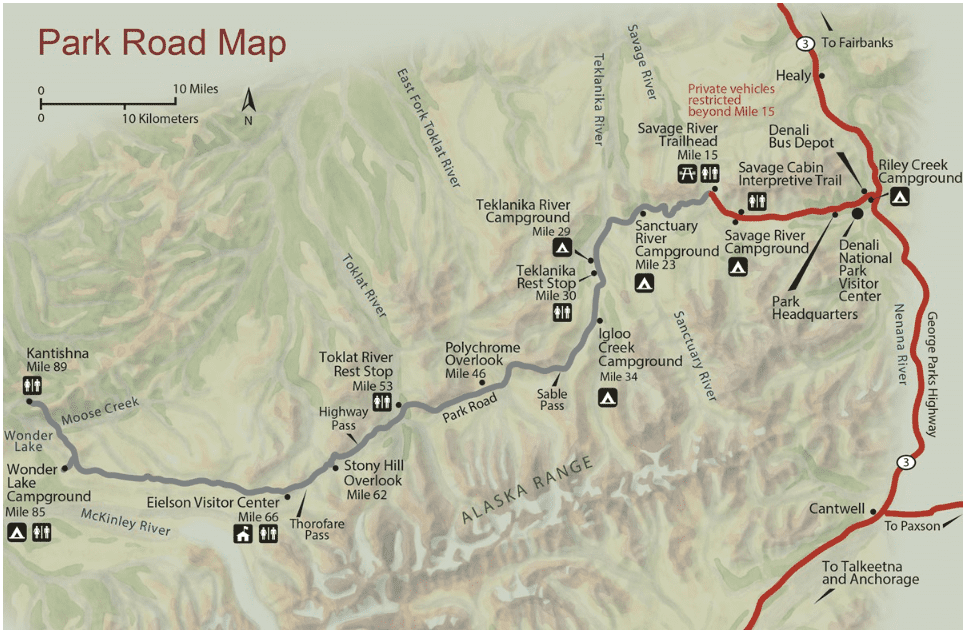 One of the things that this map puts into wonderful focus is the fact that so little of the park is directly accessible from private vehicle. Which means you can rest easy if you don't have a car because it takes a shuttle bus or tour bus to get you through most of the park.
This is done to keep the wild beauty of the park in as pristine a condition as possible. It controls traffic, allows rangers to keep their focus on a limited area that is much easier to cover, and helps to maintain the beauty and personality of what Denali National Park has to offer.
This system has been in place for decades, which means figuring out how to effectively coordinate the shuttle bus services with guided tour busses isn't a problem since they've managed to work out almost all the kinks. This allows for the most people to enjoy the park without spoiling that special isolated feeling of the deep wilderness that is such a part of the Denali experience.
Get Around Denali by Bus
There are multiple options for getting around Denali by bus. In fact, this is a very popular option as there are bus tours to Denali from Anchorage, from Denali itself, and various options at the park and surrounding park area. Busses to and from Denali are extremely popular as a transportation option and there are multiple bus tours at Denali itself, meaning you don't need cars to see what you want to see.
There are two main types of busses to be aware of:
Shuttle Busses
Tour Busses
Between the two you definitely have the ability to see the majority of the park and really check things out, but if you have a specific desire or just want to see more then you might want to take a serious look at what the park has to offer.
Shuttle busses are run by the park service or contracted to a local specialist and run very specific routes past mile 15 that allow you to see more of what Denali has to offer.
Tour busses can have a bit more of a specialty and run various times and focus – but often come with guide tours that give more on the history, wildlife, and local surroundings. Even if you don't go this particular route, you will get plenty of information taking the shuttles, seeing the visitor centers, and talking to the helpful rangers who work here and make Denali work.
Shuttle Busses Around Denali
There are two major types of shuttle busses that go around Denali, and are allowed past that mile 15 limitation that keeps most private vehicles out. These are the non-narrated
Prices as of 2022:
Children (Age 15 and younger) can ride the transit busses for free
Adults (Age 16 and up) cost $30
Busses tend to leave from the East and West sides every half hour.
Check here for up to date Denali Bus Schedules.
These prices are for busses that aren't narrated via tour guide. It's important to note that this doesn't include the park entry fee, which everyone does need to pay coming into the park.
Guided Bus Tours Around Denali
Narrated or guided bus tours are just that: tours that not only take you to all the popular stopping points as the shuttle transit busses, but also includes tour guides bringing attention to wildlife within view of the bus, the history of the area, and other points of interest or great photo opportunities along the way.
As much as I love checking out wild places independently and having the freedom to really explore a place at my own leisure and as my whims direct me, if you've never taken the guided bus tour before through Denali it really is worth paying extra to have that experience either in or out depending on how much you want to explore blind to begin.
Right now the guided tours are done via partnership with local providers and the National Park Service. The current partnership can be found here, which will give all the information you need on pricing, schedules, and more.
Whether you go by guided bus or shuttle/transit bus, this is a fantastic way to get around Denali without a car.
Get Around Denali on Foot
Once you're actually at Denali there are areas where you can get around on foot. There are some hiking trails at Denali, though most of the wilderness is without trails and undisturbed. However, many people spend time exploring the park on foot and off-trail. This is allowed although because of the very real potential threat of wildlife or emergency situations it's crucial to take all proper precautions.
This means talking with rangers about what is and isn't allowed, having bear spray for protection, and ideally going with a group to minimize any issues. While this isn't a slam dunk guarantee to be safe it does increase the chances.
Remember, regardless of whether you're talking about moose bear, you're not top of the food chain. Not up there.
So use all the proper precautions and give nature the proper respect. Don't let this scare you from camping in Denali if that has been a Bucket List item, but always listen to the park rangers and make sure to be aware of your surroundings.
For those of you who love seeing the incredible wilds of Alaska close up, the ability to get around Denali National Park on foot and check out an area you want to see really sets it apart from some of the more popular options.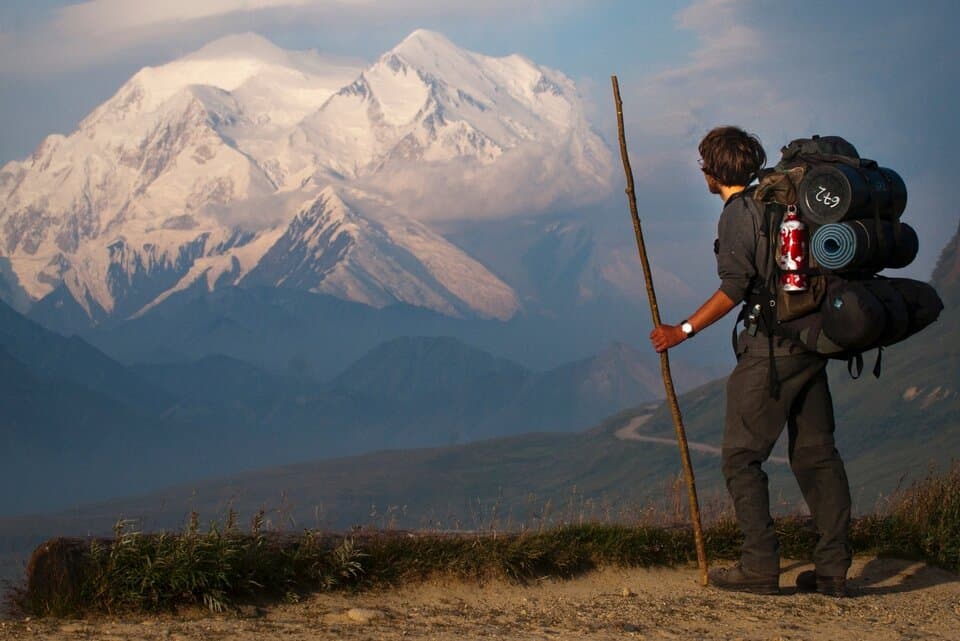 Camping & Backpacking Off Trail Is Encouraged
One of the reasons you can get around on foot is that there are limited trails and campsites. A major reason for this is the conscious decision to keep the park as wild and pristine as possible. The idea of having snaking trails throughout contradicts this so unlike many parks, there are no backcountry trails or campsites funneling all visitors into a couple overcrowded spots.
Important: You must get a permit to do this, however permits are free. So as long as you reach out and go through the proper process you will be able to enjoy the true wild frontier of Denali without another person in sight.
This is a major part of what makes Denali special is that you don't need a car to get around, and you don't have to be surrounded by a large group of others on a few specifically marked trails. If you look out and that hill in the distance that overlooks a river further on looks like the perfect spot to camp, you can just start making your way there and pitch the tent!
Conclusion: You Should Have No Issue Traveling Around Denali
Denali is a truly marvelous site, and has a park infrastructure that does a great job of allowing visitors to see the amazing wilderness and wildlife in the area with minimum disturbance. While National Parks get that designation from being a truly unique and important natural place that deserves special recognition and conservation efforts, Denali sticks out among the elite of even that inherently elite club.
So whether walking, taking busses, backpacking, or enjoying guided tours – there are plenty of ways to travel and explore Denali without a car, and even Uber services in the surrounding area if that's the best way to get to places where you want to check out.