One thing about Alaska is that there is no lack of "hidden gems" found throughout the state. While every top places to visit in Alaska are going to include places like Denali and seeing the Northern Lights in winter, and for good reason, those are hardly hidden gems. They're amazing sights and without question should be on the list when visiting, but in a place where some of the most beautiful pictures of nature I ever took were off a simple rest stop – there are plenty of hidden gems found throughout the state that can give you an Alaskan adventure unique to everyone else's.
The Best Hidden Gem Spots in Alaska
This is by no means a comprehensive list, I'd be suspicious of anyone who felt like they could create such a full list, but from my personal experiences and those of some of my best friends up there (several of whom are lifelong residents of the great state of Alaska) here are some great places to visit, sights to see, and experiences to have that fly under the radar in Alaska.
#1: Visit the Ghost Towns in Wrangell St. Elias National Park
McCarthy and Kennicott were both copper mining towns located in an area that is currently part of the Wrangell St. Elias National Park, the largest National Park in Alaska, as well as the entire United States, by land area. This places the park in south central Alaska well to the east of Anchorage and well to the north (and west) of Juneau.
The "McCarthy Area" hosts multiple rentable cabins and lodges where visitors can stay while the town itself remains a ghost town, a fate many mining towns find themselves eventually resigned to when the mine runs dry and they are a long way from a major transport hub or area that has other opportunities to offer. This can be a great experience to get a taste of the beautiful wilds of Alaska while also checking out local glaciers, hiking trails, and getting to more fully explore the ghost towns.
Kennicott is a little further into the park but offers a variety of guided tours and experiences, including a tour of the old mines. For the more adventurous visitors there are fun activities like ice climbing, full-day hikes, and kayaking that can give an even more close up and personal experience of what these fascinating ghost towns in the U.S.'s largest national park has to offer.
This sample one-week itinerary covers traveling from Anchorage to McCarthy and Kennicott, stopping for some of the better glacier hikes and local sights in Palmer along the way.
Here's a picture of Kennicott from the National Park Service – it's really a remarkable place to visit and you can feel the history in the air.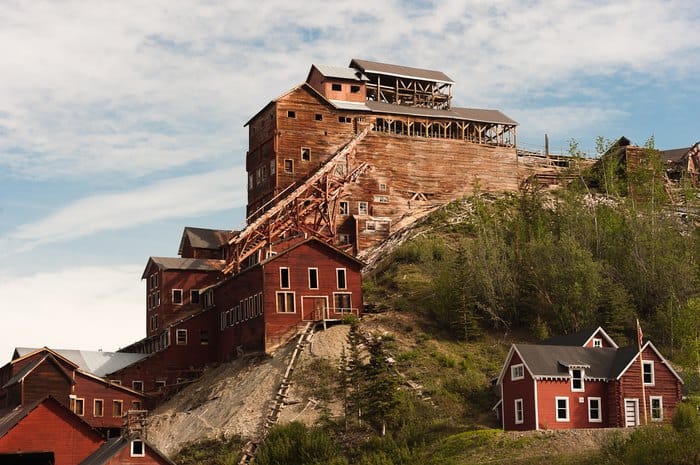 #2: Bird Watch in Creamer's Field (Fairbanks, AK)
Creamer's Field is famous among locals around the Fairbanks area, and one of the first places out of state students attending UAF hear about when they move there for college. Name Creamer's Field, this was a large dairy that became the most successful in central Alaska, as it expanded slowly year by year requiring an insane amount of work clearing out forested land to increase grazing area over literal decades.
Even while this was an active dairy this led to more and more birds stopping at the fields. Lots of grain, water, and open areas free of predators…what wasn't there to like for the birds? Once the dairy went up for sale in the mid-1960s the community raised money and bought the property to preserve it as the huge populations of migratory birds and waterfowl were loved by the community.
Creamer's Field remains an incredibly popular spot for nature lovers and from April through September of each year you can see many thousands of birds of all kinds, tons of waterfowl, all from great walking trails that go through the field allowing plenty of opportunities to view the incredible array of wild life. It's a must-visit if you hit the Fairbanks area, especially in summer.
#3: Visit Homer, Alaska
Homer isn't a hidden gem for fishermen because it is the "Halibut Fishing Capital of the World," but this small fishing town at the tip of the Kenai Peninsula is almost always overlooked by visitors who don't do a lot of research on fishing before taking their vacation.
Homer is not only an amazing fishing town, but there are incredible state and national parks with hiking trails to glaciers that can only be reached by water taxi (Grewingk Glacier is one of my personal favorites), home to many artists and art colonies, and has even been declared Alaska's most charming town by Conde Nast Traveler.
There's a lot of hidden gems all around the Homer area and you can find great craft beer, antique shops, art stores, wonderful people, and an incredible amount of wild and beautiful outdoor experiences even by Alaska standards. If you have the time to explore the Kenai Peninsula, make sure to go all the way down the Sterling Highway to the very end to check out the incredible town of Homer.
#4: Hike Grewingk Glacier Trails – Homer, AK
One of my best friends, whom I met at UAF when I went there for school, was from the Homer area and showed me this incredible spot. Located in Kachemak Bay State Park, Grewingk Glacier is home to a series of trails that are around (surprise!) Grewingk Glacier. The main trail is 12.5 miles one way and leads to the glacier itself and is quite a challenging hike, while the Lagoon Path and Lake Trail are both much more relaxed and easy routes that can easily be done at your own pace and have you ready for pickup in the late afternoon.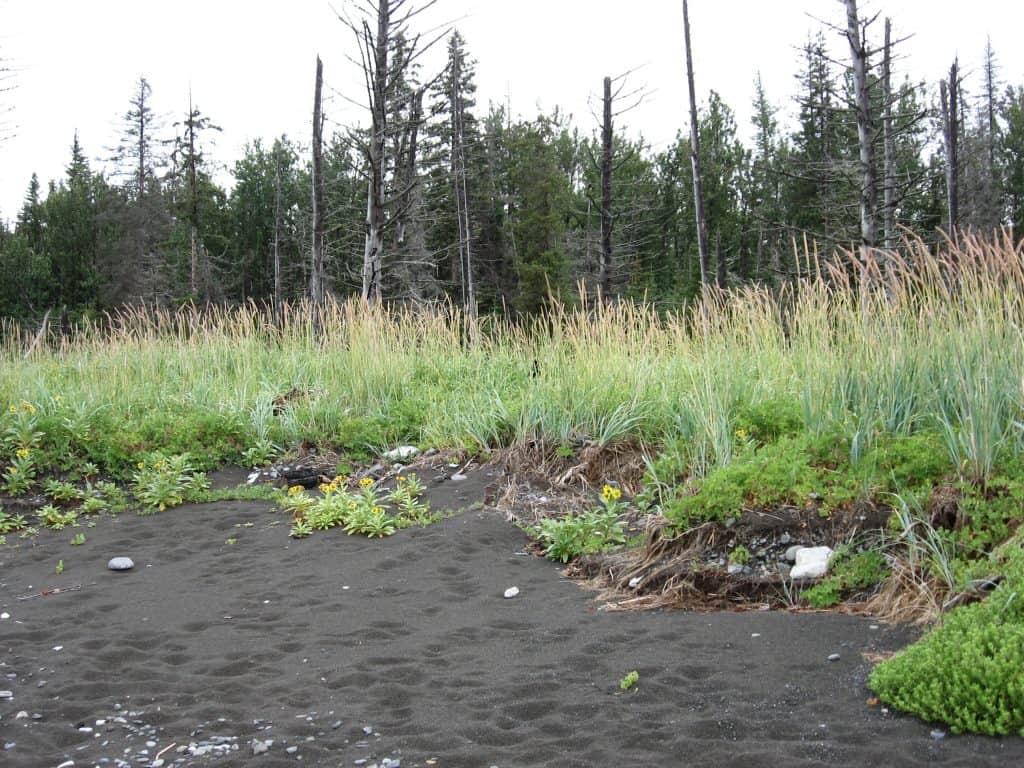 The high point is a literal set of saddlebacks up the side of a very tall point that lets you see for many miles in all directions, getting woods, mountains, and the famed glacier all in one shot. It's also an excellent place to rest for lunch after a morning of fairly intensive hiking.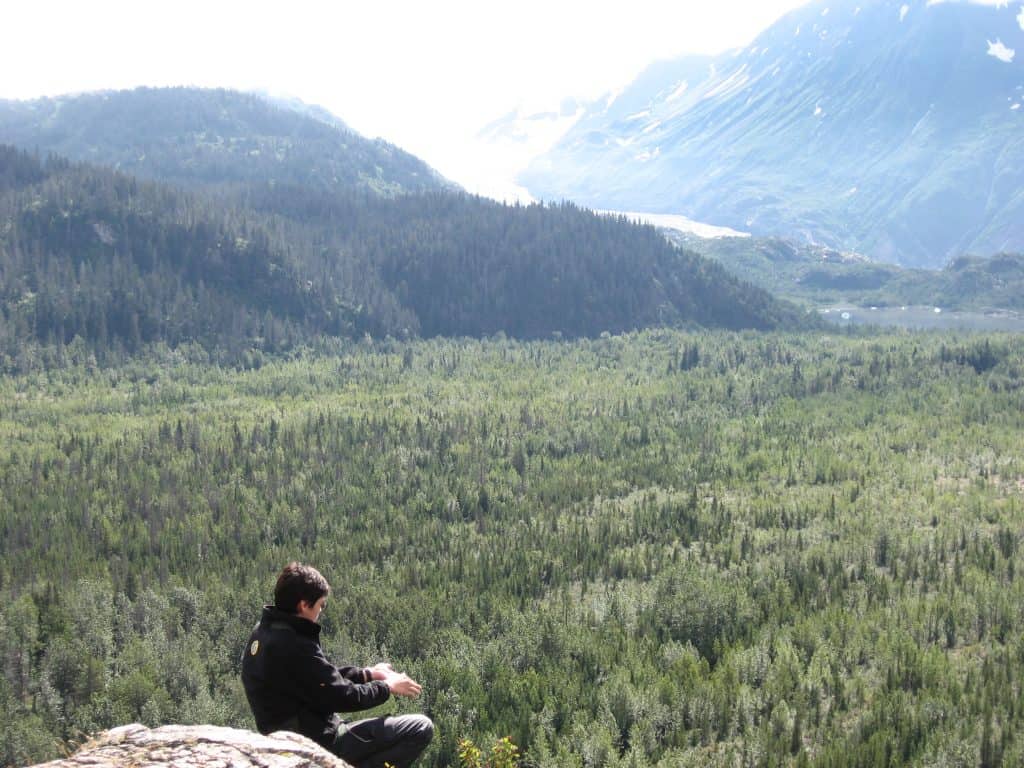 I will say that because of how tides and water taxi pickup times work, you do have limited hours in the day to explore around if you want to be in and out in one day, and the top of the saddlebacks at the high point right after using the tram to cross the river is as far as I'd go if you don't plan on staying at the cabin or camping out overnight.
Getting all the way to the glacier and back isn't viable for most groups in one day, and when you have trails like this you want to take the time to enjoy it. If you're taking a trip all the way to the glacier, assume it's at least a two day trip, three if you want to explore all the side trails and everything else this amazing natural area has to offer.
#5: Hatcher Pass – Anchorage, AK
By a weird coincidence none of us could have seen back in my college days, my college roommate also eventually ended up living in Alaska, a few years after I moved back to the Lower 48. Hatcher Pass is one of his favorite spots to hike on those rare summer weekends when he has some time off.
Hatcher Pass is located in between Willow and Palmer, and offers some of the most scenic drives in the entire state. Independence Mine is a fascinating stop and great from an educational point of view if you want the guided tour of the old gold mine.
There are also multiple hiking trails throughout Hatcher Pass, each one that has no shortage of incredible scenic views, challenging routes, and picturesque moments. During the early summer months, there are ATV trails that allow travel to towns like Willow which are otherwise not easily reached overland. The guided ATV tours are pretty great.
Even if you only spend a day or two in Hatcher Pass, this is an experience that lets you see a whole lot of the incredible natural beauty and historical experiences that the state of Alaska has to offer.
#6: Explore the Nome Road System – Nome, AK
If you're going to Nome you're likely to explore what's there because you are going way off the beaten path of where the majority of visitors and tourists go. Nome is an Alaskan town many geography buffs know well because it really sticks out on that western coastal area. It's also a historically interesting town as its nickname as the town of "Golden Beaches" is from a weird aberration where gold was found in large amounts on the actual beach.
However, modern visitors still have a reason to visit because Nome built out something interesting: 3 separate "highways" of over 75 miles each. These are all gravel roads leading out of town, but in a state with so few road systems, this is really unusual and was built with an eye to tourism. It's not like there's a bunch of villages to connect to.
The Nome scenic roads are only open during summer but offer the chance to drive and really explore the wild while having the ability to get out there. There are also guided tours and while I'm the type of traveler that often prefers to wing it, these can very much be worth it as your guides know the local wildlife hot spots, the various flowers and plants, and the interesting history that applies to the area.
#7: Valdez Is All About the Glaciers – Valdez, AK
The town with the most mispronounced name in Alaska (Val-deese – yes, with the same sound as the crude saying "deez n**s" – not the Spanish Val-dez), this is a town connected to Highway 4 on the far eastern side of the state but most visitors come via cruise. Valdez is surrounded by massive amounts of forests and many, many glaciers.
If you're going to Alaska to check out glaciers, chances are you want to hit up Valdez and see all the amazing sites. There are four major glaciers that can be visited without going on a crew, each with a park and hiking trails surrounding them, and four more glaciers only accessible via guided tour or cruise. That's eight major glaciers all converging in the are of present day Valdez – which makes this gem a place you don't want to miss when visiting many of Alaska's best hidden gems.
#8: Choose an Alaskan Railroad Trip
As I have mentioned many, many times, I am a HUGE fan of the Alaska Railroad and the truly incredible trips they offer. If you have the time, choose an Alaskan Railroad Route, whether that's to/from Denali, the full Fairbanks-Anchorage route, or down a bit of the Kenai, and then spend as little time outside of the viewing cars (or amazing dining cars) as possible.
This is a stunning trip and despite the fact the Fairbanks to Anchorage (or Anchorage to Fairbanks) is a good 12 hours and change one-way, any time in summer I had to make that trip I would pay for the ticket and take all that time for a relaxing trip with excellent meals from the dining car, stunning natural beauty all around, and you get to see wild and stunning landscapes that you can't access any other way.
There are only a handful of choices for an Alaskan railroad trip, but every single one is a gem and worth the time and incredibly reasonable expense.
#9: Talkeetna, AK
Many of my favorite spots in Alaska are a stone's throw (by Alaska standards, anyway) away from the more popular and famous spots, but distinctly small town or rural Alaska. Meeting the people, seeing how they have fun, or getting invited to a bonfire party to hang out with locals to enjoy a weekend while the tourist spots can do their own thing miles away.
Talkeetna is located at the base of Denali, the tallest mountain peak in North America, and is a wonderful Alaskan village that has plenty to offer locals and visitors alike. Grab some food from the bakery or local diner, hike some trails, kayak down nearby creeks, or plan your outdoor adventures around your level of adventure and experience.
There are also guided tours, gift shops, and honestly many of their small shops and stores are really done right. They give off the type of vibe that is enjoyable to visitors and still remains very Alaskan in nature.
The most recent summer guide uploaded to the local website is from 2019, but it's mostly up-to-date and demonstrates just how many things there are to see, do, and experience in Talkeetna and the surrounding area. You can download that free Talkeetna PDF here.
#10: Cruise the Summer Pallet Fires Outside of Fairbanks
One of my favorite things about living in Fairbanks was just how incredibly easy it was to meet new people. In the many many dirt and gravel roads around Fairbanks summer meant a return of light, and cruising the cabin roads to see who was having a party. Basically the local traditions were simple: if a pallet fire was obvious from the roadway, and you showed up with a couple of bottles or twelve packs, you were welcome to join the party.
I met so many people who just randomly showed up at my cabin while some friends and I were having a fire, or from going around and joining other get-togethers that started around the fire of a cabin I didn't know.
This was an amazing part of my experience living around Fairbanks, and can be a neat way to get to really know some locals around the Fairbanks area on the weekends once summer comes around. If you get an invite – definitely take a shot – you never know who might show up!
#11: Chena Hot Springs – Fairbanks, AK
Ah, Chena Hot Springs, that getaway from Fairbanks where we would soak in the soothing Hot Springs and look up at the northern lights as our faces frosted over at -40. Great memories of these springs, and they are renowned around the Fairbanks area.
You have the option of doing a day trip and heading back or can make reservations and stay for an extended experience. The Chena Hot Springs Resort are more than just hot springs (although that's plenty enough with good company and beautiful scenery!) but there's a full resort there offering a variety of activities for all four seasons of the year.
There's a restaurant on site, masseuses services, hiking trails, and plenty of interesting local places to visit. Winter also means the famous ice museum tour, which really is quite a sight.
This is a peaceful area, a nice getaway, and considering how out of the way many Hot Springs are, very convenient to find and reach which is always a plus.
#12: Manley Hot Springs, AK
Much further away from Fairbanks than Chena, Manley Hot Springs require a bit of planning, and let you see a small community way out in the Alaska Bush. Manley is a 4 to 5 hour drive from Fairbanks via 157 miles of road, the last 80+ of which is all gravel.
Manley Hot Springs has a full-time population of just over 150 and the Manley Roadhouse is your only restaurant and hotel in town, so that's where you want to make your reservations. When you visit the Hot Springs you can relax and enjoy Alaska surrounded by the beauty of the Last Frontier.
There is also occasional plane service (small bush plane) to and from Manley from the Fairbanks International Airport, which is a much quicker way to visit Manley and lets you get a birds-eye view of the local area, as well.
#13: Gates of the Arctic National Park, AK
This is one for the brave, as the Gates of the Arctic isn't a National Park with roads, trails, or housing. This is nature at its wildest and if you're going to explore, you're plunging right into the wilderness of this great huge state.
There are no roads. There are no trails. If you want to explore, you do it right into the wild with all the dangers and wonders that entails. This is only going to appeal to a certain type of visitor, but for those who truly seek adventure in the bare wilderness of Alaska, this is your dream destination.
Just look at the pictures to get an idea of why the adventurers willing to make that trip are so excited about such a "roughing it" experience. Even in Alaska, you don't catch photos like that everywhere.
#14: Matanuska Glacier – Anchorage, AK
Matanuska Glacier is the largest glacier accessible by car in the entire United States. If you noticed there is also a Matanuska River, congratulations, you get an A+ in Alaska geography! The terminus of the glacier feeds into the Matanuska River.
Located in the aptly named "Glacier Valley" this is an inland glacier that you will find about 2 hours northeast of Anchorage and is currently 27 miles long and 4 miles wide, roughly. This makes the glacier quite accessible for people who don't want to spend a week on a glacier cruise, and it's a fantastic experience as there are guided tours, summits, ice climbing – all kinds of experiences that can really create an outstanding experience.
#15: Silver Gulch Brewery & Bottling Company – Fairbanks, AK
The various breweries in Alaska, and the fun events they hold throughout the year, make up for a ton of "hidden gem" experiences for Alaska tourists. One of these you need to check out is the Silver Gulch Brewery & Bottling Company. Located about 10 miles north of Fairbanks they make great micro brew beer in addition to having a great restaurant, bar, and banquet area.
Silver Gulch provides great meals, great beer, and during times like the 4th of July or Spring Opening will have special events going on that are great for meeting people, having fun, and enjoying what the local area has to offer.
If you're a beer or bar food fan, this is a must visit if you make it to the Interior.
#16: Check Out the Cross Admiralty Canoe Route – Admiralty Island, AK
Not a canoe route for beginners, but the Cross Admiralty Canoe Route through and around Admiralty Island provides remarkable wildlife viewing. Admiralty Island is sometimes nicknamed "The Bear Fortress" for its massive bear population – and when you can beat Kodiak hands down in that category that is really saying something.
The Pack Creek Brown Bear Viewing Area doesn't disappoint, though permits are required from the Forest Service in order to visit this area and view all the wild life. There is only a very small Tlingit community in the area, and the island does have sacred value to them so be respectful of the culture.
This shouldn't be a problem and if you want a trip that involves stunning almost Norwegian like scenery while canoeing with tons of animal sightings, then the Admiralty Canoe Route in Alaska is one that is worth taking a look at before your next trip.
#17: Visit Old St. Nicholas & New St. Nicholas Churches at Eklutna AK
Sometimes you need a local to show you the tucked away places that just leave an impact. That was how I found out about Grewingk Glacier and also then Eklutna. This is a small village on the outskirts of Anchorage, and was a place where the only Athabascans who lived near water, making them already an interesting and unique group culturally in the state, but Russian Orthodox missionaries were well received here.
This lead to a blend of influences that mix Russian Orthodox architecture, beliefs, and spiritual traditions with those of the local Athabascan population.
The historic old church is a sight and the cemetery includes Russian Orthodox crosses, brightly colored, a really unique sight that you simply won't find anywhere else in the U.S. outside of pockets of southern Alaska. There are spirit houses, onion domes, and a blend of traditions from the two cultures that creates a very humbling and beautiful place to experience that you simply won't find anywhere else.
#18: ATV Tours of Denali – Denali, AK
Denali isn't a hidden gem – it's one of the biggest attractions in the state of Alaska and for good reason. But the park is also massive and did you know you could explore it via ATV? Guided tours are a great way to see some of the most scenic areas miles from the tour busses and roads, or you can look at getting a permit to explore on your own.
This park is huge and an All-Terrain Vehicle is a great way to see the wilderness and can even be ideal if you want to take advantage of your ability to camp deep into the park, experiencing Alaska's vast wilderness firsthand. This can be a wonderful experience, and if you don't know how to drive an ATV, there are one day or one weekend training courses to bring you up to speed.
This is an amazing way to experience Denali on a new level, and a guided ATV tour is still a wonderful freeing experience that puts a different spin on your normal Alaska experience as a tourist.
#19: Haines Brewing Company – Haines, AK
Look, if you live in a state where you don't see the sun for half the year and winter is longer than spring, summer, and fall combined, then you are going to have a lot of attention paid to good beer and social settings. The Haines Brewing Company is a fantastic micro brewery that has a strong renown in Alaska even in comparison to the many excellent local breweries that are found throughout the state.
Located in Haines, Alaska, you have had plenty of adventures already if you have made your way out to this small "town" (technically it's a "Census Designated Area"), so why not stop for a good beer?
This small community of characters has a surprising lot to do as they have embraced the idea of being a spot for adventure, with an unofficial motto being "The Adventure Capital of Alaska" and I had no problem finding things to do, fun people to hang out with, or suggestions for what my next "you can't leave without trying this" should be and the Haines Brewing Company is a great place to meet the people, get this information, and have some damn fine beer.
#20: Explore the Amazing Thai Food Scene in Fairbanks
Why are there so many great Thai places in Fairbanks? I have no freaking clue, but it's a trend that started when I was in grad school with a great place opening in my first year at Uni in easy walking distance of campus. The owners were so friendly and amazing cooks, and it seemed like every time I ran into a group friends who "heard about a great new restaurant" we'd end up at a Thai place – and often a new one different from the other 4-5 I had ate at.
There are nearly 20 Thai restaurants in town, and whatever the reason this trend started, it's delightful if you love Thai food…not to mention delicious! While you might not have thought about amazing Thai food when planning an Alaska trip, if you're heading to the Interior it's worth checking out!
#21: The Serpentine Hot Springs – (Outside of Nome)
Every area of Alaska seems to have its particular favorite hot springs. The Serpentine Hot Springs are a one hour flight away from Nome via bush plane, or during summer there are ways to get to here by foot for the especially prepared and adventurous.
These hot springs are located within the Bering Land Bridge National Preserve, and while not as developed as Chena Hot Springs, some people really like the isolation and natural setting where you can soak truly surrounded by the Alaskan wilderness.
#22: Fountainhead Antique Auto Museum – Fairbanks, AK
I have no idea what a museum of this quality is doing in Fairbanks Alaska, and yet it's there. Considered by many to be one of the best antique car museums in the entire world, bragging about vintage cars with vintage threads as truly vintage clothing from many decades or even a century past is also on display. This is quite a combination, and with the quality of collections that Fountainhead can brag about having – it works.
You can visit the website here, and while this truly unique and awesome museum is finally starting to get the attention I think it deserves, even recently being named by Travel Advisor as the best tourist attraction in Fairbanks it's still worth noting how few people hear about this truly remarkable museum.
I firmly believe this should 100% be on your list to visit if you are going to be in Fairbanks. Even for people who aren't generally "car people" or "vintage clothing people" this museum is just impressive and is worth the stop to see the living history.
#23: Ophir Creek Campground – Northeast Fairbanks, AK
Ophir Creek Campground isn't going to be for everyone. Well north of Fairbanks following the Old Steese Highway, this is a rustic campsite. There are outhouses, no running water, but a pristine river close by and you treat your own water if you didn't bring it with you. The views at and around the Ophir Creek Campground are truly stunning, and some of the best hikes in the Interior are just off the highway on the way up there.
This is a rustic campsite and even many of the three mile loops are killer difficulty (staring daggers at you Tabletop Mountain) but if you want some of the best views in this part of the state, you'll find them in and around here.
#24: The Fred Blixt Cabin – North of Fairbanks, AK
Another remote location, the Fred Blixt Cabin is off mile 62.5 of the Elliott Highway and is named after the original trapper who built it all the way back in 1935. Maintained by the Bureau of Land Management. This cabin was an important bit of living history and maintained for decades, but there was a fire that burned down the original cabin in 1991.
Thankfully, enough people saw its importance that private money was raised to rebuild it. The cabin must be reserved and sleeps up to six. This is a good old fashioned rustic cabin so bring your water, prepare to cut some firewood, bring everything you need. The stove uses propane, so also make sure you have the right fuel to use what few benefits are there.
Here is the page to reserve the Fred Blixt Cabin, and if you want that true "Alaska experience" it's hard to beat a few days way "north of nowhere," as we sometimes referred to any area north of Fairbanks (lovingly, of course) in an old trapper's cabin in the Alaska wilderness. Make sure to bring some books, some sketch pads, and fully charged phones and GoPros for all the pictures!
#25: Shrine of St. Therese – Juneau, AK
You don't expect to find something like the Shrine of St. Therese – it feels like a long standing Medieval church you'd find in the forests of Germany or France or somewhere else in Europe. This is an incredible stone chapel and to be honest I kind of wondered if I was hallucinating the first time I saw it – despite my friend Anna taking me there specifically to see it.
This stone built Shrine is simply beautiful, and it's amazing to me to imagine the work that had to be done to find all these stones, gather them, and construct this shrine in the middle of the woods so far from road or dock. There are incredible gardens in the area, and this is an active Catholic Shrine, which didn't mean a lot to me, but it was still cool standing back and watching those who were Catholic go through the stations while practicing the appropriate traditions.
Located on a tidal island that is connected via causeway, this is relatively easy to reach despite being around 20 miles away from Juneau. That said this
#26: Golden Eagle Saloon – Ester, AK
Oh man, I have so many wonderful memories at the Golden Eagle Saloon. Shut down during the winter because of a lack of heating, but open during the spring, summer, and very early fall, the Golden Eagle Saloon is the definition of a corner saloon in an Alaskan wilderness town. Ester is a tiny little incorporated census place a few miles out of Fairbanks, and when open during the summer months the Golden Eagle Saloon has good drinks, an indoor grill and fireplace, and gives a unique experience you'll be hard pressed to find elsewhere.
Personally I loved it and have many great memories of hitting the Golden Eagle when I wanted a good burger and beer that wasn't going to go completely busting my budget – at least not by Alaska standards. The Eagle was always synonymous with a good time and I would definitely recommend it for anyone looking for a chill place at the end of a day.
#27: Coldfoot Truckstop – Way North of Fairbanks, AK
Sitting well north of Fairbanks, half way between Fairbanks, AK and the Arctic Ocean, this is the northernmost truck stop in the world and has a café, cabins for rent, rest area, and is the last fuel stop for truckers heading up to Prudhoe Bay. While the Coldfoot Truckstop is a large truck stop, café, and restaurant offering a last stop for truckers on their way north, or a welcome break on the long haul south, it now has rental cabins, a few year-round residents, and it is a great jumping off point for bird watching, kayaking, wild camping, and exploring the very far north wilds of Alaska, all in sight of the Brooks Mountain Range.
#28: High Adventure Kayaking Camping – Kenai, AK
In virtually any part of Alaska you can have high adventure camping, kayaking, or both, so why do I point out the Kenai specifically? It's because there are so many public land lakes here that are connected by portage after portage. What's this mean? If you kayak through a couple of portages you could kayak in lake after lake after lake and not see another human soul.
If you're the high adventuring type, there's no reason you can't have a lake to yourself while camping and observing Alaska in all its natural glory. The Kenai National Wildlife Refuge alone has over 60 lakes that can easily be traversed from one to another with minor portaging of kayaks, if I remember correctly. They certainly have more than 50.
#29: Go Mural Hunting in Soldotna – Soldotna, AK
While Homer is a town that has a serious reputation for artists, Soldotna is another location that is known for having a thriving art and artist community. Soldotna Creek Park is home to many wonderful murals that were encouraged by the town's Rotary while many local businesses have also hired artists or given local artists permission to take an open wall and create a mural.
This is a great way to see some fantastic art in an Alaskan town with a lot of personality and plenty to see and do when taking a break from the more common (but equally awesome) attractions of great fishing charters and air tours.
#30: Walk Soldotna – Soldotna, AK
I've never made any secret of the fact that I love walking, I love hiking. Because of this when I spent several days in Soldotna on the way to visit friends, two attractions jumped out at me as being particularly impressive and enjoyable. One is the Soldotna Riverwalks. Soldotna has a stunning number of elevated boardwalks that put the wild forest on one side and the river right on the other.
These are a hit with fishermen who love the multiple access points to the river without damaging shore, and the riverwalk also provides non-anglers with plenty of incredible views of the area.
The second were the Tsalteshi Trails. It was a challenge to cover all of these trails running in, around, and about Soldotna in just a few days, and I didn't quite manage but I got close. Trust me when I say the trails that run through and nearby so many Alaskan towns are true hiking trails. They are amazing and give plenty of time to run, walk, hike, or bike while surrounded by natural beauty of Alaska and yet are still close to town. In the winter 25km of these trails are kept up for cross country skiing and even lit with electric and street lights so locals can cross country ski in the darkest winter days.
#31: Mendenhall Ice Caves
I'm still amazed how many people visit the state capital of Juneau and somehow, some way, don't even hear about the Mendenhall Ice Caves, much less visit them. That is a jaw dropping missed opportunity! There are ice caves that are kind of neat, kind of lame, and then there are the ice caves you can find around Juneau and those are just amazing!
These are located at the Mendenhall Glacier and feature running water over stones, clear frozen glacier water above, and ice and snow year round in the caves themselves. This is a remarkable site and an added bonus for visitors that makes Mendenhall Glacier stick out from other glaciers you can visit throughout the state. There are both guided tours and you have the ability to explore solo.
Make sure to have plenty of long sleeve clothes and layers to keep warm because the caves are (naturally) quite chilly but prepare for an amazing experience with some truly crazy wonderful pictures!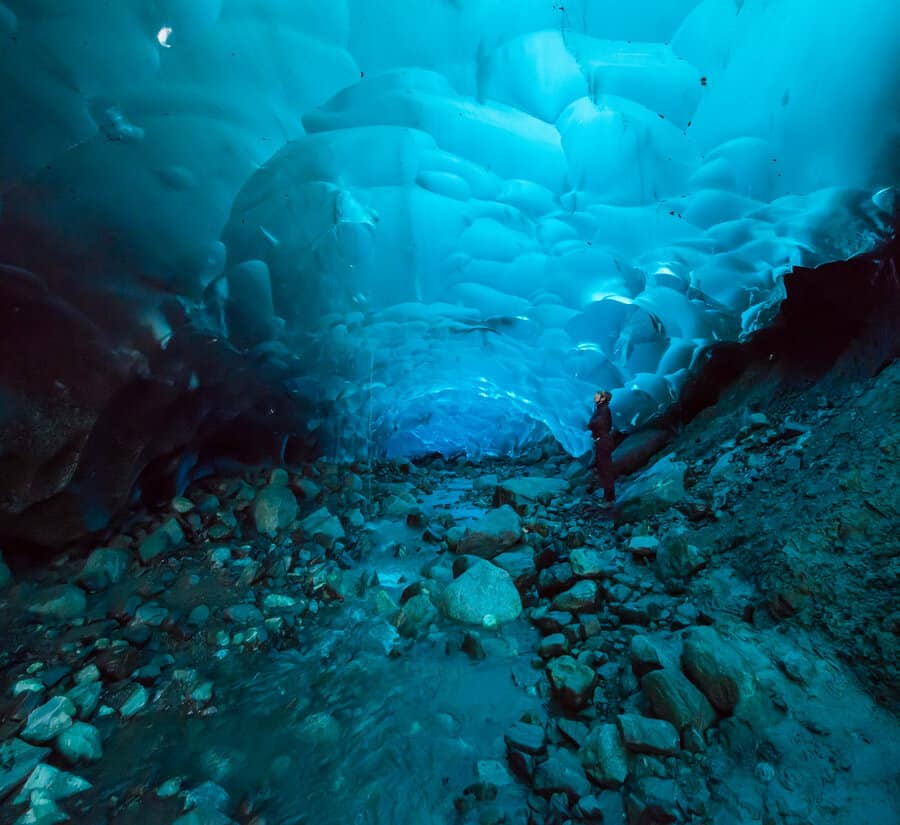 #32: Plan a Mount Roberts Tramway Day
Located in Juneau, the locally famous Mount Roberts Tram is just that: a covered automated tram that takes you to the top of Mount Roberts which offers stunning views of the surrounding area since you ride up to the top of the 3,819 foot mountain where the flattened area where the tram stops includes some shops and restaurants, a theater that occasionally is running special shows, and many wonderful hiking trails.
Even better, these trails are varied and well-kept with several even being wheelchair/handicapped friendly, which provides individuals or families with members in a wheelchair or with crutches an opportunity to experience some wonderful Alaska scenery up close.
If you can catch a show at the top of the mountain theater and enjoy that sort of thing it's worth checking for any local updates, and it's a unique experience that I very much enjoy. If you're going out of the way to explore the Juneau area, don't miss the Mount Roberts Tram! The views are fantastic, the food delicious, and the views Instagram-worthy all the way through.
#33: Drive by Reliable Sheet Metal along Glacier Highway
A local sheet metal business in Juneau, Alaska, Reliable Sheet Metal, which has found an awesome creative way to stick out from the competition. This local business has created multiple figures from The Wizard of Oz out of painted sheet metal on the roof of the building. The Wicked Witch, the Tin Man, the giant Wizard's head, Dorothy – all of them are there!
This is an operating business, so please be respectful and don't wander around private property and interfere with their work, but it's a neat little bit of sheet metal art that is worth a picture or two and definitely throws a bit of a curve ball and changes up the pace with all your likely Alaska pictures. Plenty of good spots off lot to get that perfect picture and a nice changeup that compliments all those nature shots perfectly.
#34: Do You Enjoy Cycling?
When I lived in Fairbanks I referred to young Fairbanksians as "People of the Bike" because it amazed me how many people rode bikes even in the dead of winter, and had insane balance and complete control even with no hands. That and I was on a Mongol history kick, so people of the horse became people of the bike and it fit, but Fairbanks isn't the only Alaskan city where that applies.
Alaskans in Juneau love their bicycles, and Juneau is a great city to explore via bicycle. Not only that, but there are some excellent bicycle tours that also explore the Juneau area and allow you to get your exercise in while doing it. Take a look at some of the bicycle tours available in the city and find one that meets your specific needs and is interesting to you.
#35: Six Mile Path Just off of Seward Highway
Seward Highway is one heck of a scenic drive, but the popular Six Mile Path is a section of paved trail running just off of the Seward Highway starting from the 63.7 mile marker and ends at the 70 mile marker, which is the junction where you can head to the town of Hope. This path is a paved bike trail that runs near the highway and lets you see the wilderness up close and personal and enjoy being immersed by the natural beauty of the state.
Parking is available at Hope Junction and the Granite Creek Campground, making it easy to stop during your drive to take a wonderful short bicycle ride on trail, with no lack of things to see, and maybe even stop for a picnic before heading back on the road to your next Alaska adventure.
This is a short hidden gem of a thing to do but if you find yourself going down the Seward Highway and have your bicycle on hand, this is very much worth the stop to stretch the legs, check out the trail, and enjoy what the area has to offer. It's one thing to see the beauty of the state close by, it's another to be immersed by it as you can walk, hike, or bicycle through the natural beautiful wilderness of what the Last Frontier has to offer.
#36: Visit the UAF Museum of the North
The University of Alaska Fairbanks (UAF) has an outstanding museum near the top of campus sitting on the hill. They're the two buildings designed to look like a mama and baby whale swimming through water. It can be hard to see, but at the right angle it jumps out at you and is a really neat architectural piece of aesthetic planning.
The Museum has an amazing collection of Native artifacts, local historical items, displays, and more. There are fossils, art gallery, and some truly outstanding art displays. It's a wonderfully designed and curated museum that has you moving from one cool and interesting display to another.
The museum is normally open from 9am to 5pm daily (5:30 close, but you can no longer enter at 5 as they begin the shut down process), and sometimes has literary readings in the main hall if you go there in the evening, check for such public events.
Definitely worth the visit – and there are plenty of friendly people who can bring you up on what's going on in the area, what places are worth checking out, and what other special events might be going on while you're visiting.
Official Museum of the North Website
#37: Sitka National Historical Park
An extraordinary park that emphasizes the traditions of the Native Tlingit and Haida indigenous peoples, which includes several of the most impressive totems in all of Alaska. Wi-Fi in the area allows smartphone users to connect to files that give a history of the area and each sight – allowing you to get your personal walking tour while taking it all in at your own pace.
Bonus Alaska Hidden Gems
There are a few hidden gems that I couldn't put on this list, not because they weren't great, but because they were niche or in a state of limbo for one reason or another. There are many potential reasons that an experience could end up here instead of on the main list, but that shouldn't scare you away – just make sure that you call ahead or do a bit of research to see if anything here has changed between the time I wrote this and when you visit.
See If The Blue Loon Has Rebuilt – Fairbanks, AK
I have a ton of memories of The Blue Loon, but unfortunately there was a fire in 2019 that damaged a building that has been an absolute institution around Fairbanks for decades. Imagine driving out of town, past miles of woods on wilderness highway, a few industrial shed-style buildings here or there, surrounded by thick woods, and then suddenly a gigantic gravel clearing with a very large building, a sign, and a lot of parked cars.
Welcome to The Blue Loon – a major concert venue, community theater, dance area, bar & restaurant, and more. This was a place that pulled all the major indie (and sometimes mainstream) bands on a Seattle Tour which would then tack on two shows in Alaska to cap off a tour. The Blue Loon was a very large and unique building that was versatile. It was set up like a traditional movie theater at one point, and then a stage concert with open dance floor for a big indie rock band from Seattle.
The Blue Loon was an absolute institution in the Fairbanks area, and while rebuilding had started at one point, it also appeared to stop at one point in 2023. Hopefully the Blue Loon has rebuilt and if you find yourself in Fairbanks, ask around to see if it's back and running. If it's even half of what it used to be before that, then you will want to make that trip to see what the Blue Loon is all about.
Visit the Northernmost Denny's in the World – CLOSED (Kind Of)
For over 40 years the northernmost Denny's in the World was located in Fairbanks, Alaska. During grad school, I went here for many an inexpensive but delicious meal while hammering away at grad school. Unfortunately, you can no longer visit the Fairbanks Denny's because it closed after nearly 40 years in 2022. However, you can still visit the northernmost Denny's in the world in Alaska since after the Fairbanks closing that made the Anchorage Denny's the northernmost in the world.
So still in Alaska, though a very different restaurant. However, if you like those old school checklist items, the northernmost Denny's in the World is still in the far north of Alaska.
Check Out Igloo City – Cantwell, AK
Up until recently Igloo City, located near Cantwell off of Denali was a cool little ruin to stop, take some pictures, and enjoy some incredible views. The juxtaposition of a super cool designed building – but one that's abandoned and therefore was urban decay with the wild beautiful mountains and woods right there.
Igloo City was meant to be a hotel with a gas station right there but it never came to fruition despite multiple attempts, leaving behind the abandoned buildings including the very distinctive Igloo City. However, as of 2023 it looks like a couple is going to renovate both buildings and create a working distillery – bringing new life back to the former gas station and first-time life to the wonderful Igloo City (article here).
There's no shortage of things to do and see in Alaska, and these are many of the best hidden gems that are still only scratching the surface of what the state has to offer.
Other Alaska Articles You'll Likely Love