My love of Alaska hopefully shows through with each of these posts, as it is somewhere that still holds a dear place in my heart. Among the many great experiences I had there, one that I have highly recommended to both visitors and those who had some vacation time is to take the Alaska Railroad if they have time. While it's not fast by any stretch, those routes show all the incredible wilderness that make Alaska shine at its finest and wildest.
The Alaska railroad routes are a wonderful way to see some of the most beautiful areas in all of Alaska whether taking a special backpacking trip to the wild, visiting Denali National Park, or taking a day to move from one major urban area to another.
The trains cut through the heart of the Alaskan wilderness, and it's one of my favorite ways to see the state. Despite there being much faster ways to travel between the main airports of Anchorage and Fairbanks (like the many daily flights back and forth), nothing is quite the experience of seeing all of this by train. There's a reason I'm willing to gladly give up a 12-hour day to enjoy all the route has to offer, even though I've seen it many times before.
But just because it's right for me doesn't necessarily mean it's always right for you. But if you're a first time visitor, or a long-time resident wondering if it's worth burning a day of vacation for the experience – read on and we'll give you the information you need to make a final decision.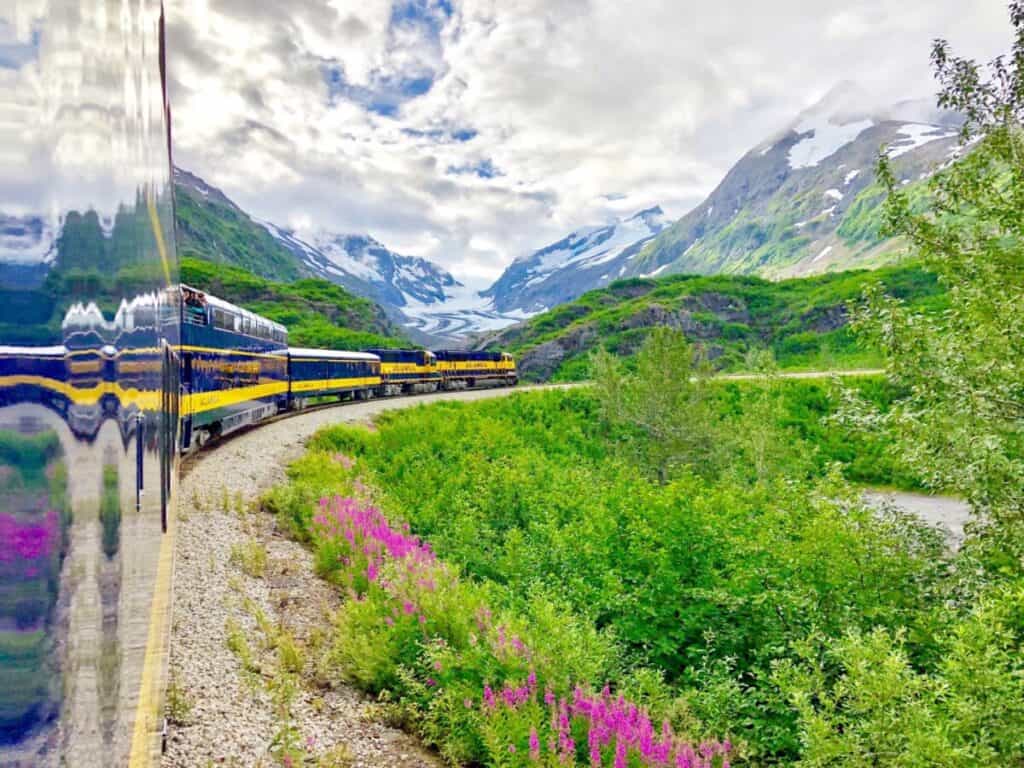 Popular Alaska Railroad Routes
There are several popular routes. I'm breaking all the named routes or packages that the Alaska Railroad Company currently offers into one of three branches, as almost all their routes will fall into one of these three categories, and for first time visitors chances are it's one of these three things that most interests you when checking out the state.
The three "general" routes are:
Anchorage to Fairbanks (and Vice-Versa) – The largest route by far connecting the only city in the Interior with the biggest city in Alaska…and everything in between the two.
Routes to & from Denali – Denali National Park is a crown jewel in a state full of natural treasures, and whether you're going to Denali from Anchorage or Fairbanks, or returning to one of those cities after a long visit, these might technically be on the larger Anchorage-Fairbanks line but the route is important enough.
Anchorage to Seward (Kenai Routes) – While a good chunk of the Kenai isn't available via train, the entirety of the Kenai is a pretty amazing place and what you can see off of the Seward route is worth more than a single day trip.
Depending on what you want to emphasize, there are different routes and stops on each one that have a different focus from exploring glaciers to staying overnight at the Denali National Park, to exploring some of the towns on the Kenai or even hitting an overnight adventure with a hike off the line to some well-known cabins that are very much in the middle of nowhere.
Anchorage to Fairbanks (or Vice-Versa)
This is a route I know well, and it cuts through Talkeetna, Denali, and other popular stops along the way. This route is one I went on a half dozen times, and I was just as pleased to spend an entire day on the 6th ride as the first. Alaska is just stunning – even for those who have lived there for years. It wouldn't be such a special place otherwise.
There are train routes that go the full stretch each day. One train goes the Anchorage to Fairbanks route, and one goes from Fairbanks to Anchorage. Fun fact: the crews of each train switch at the midpoint that way everyone gets to finish the day in the city that they are based out of.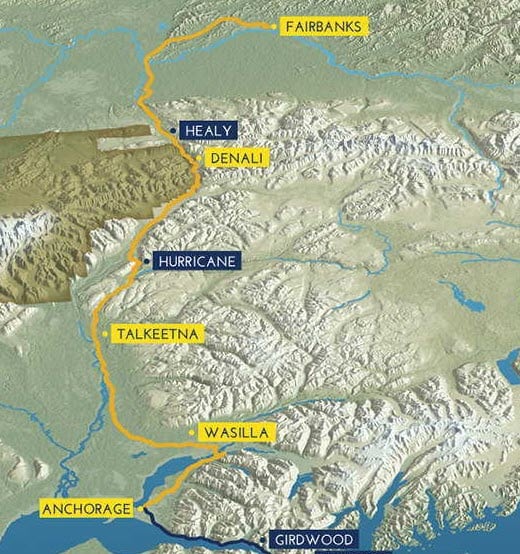 I have friends who still live in Wasilla, as well as Talkeetna, and it's worth noting that Denali is on this route. You can stop for a few days and then pick up the route again, or enjoy a long go of it one way, spend some time at either Anchorage or Fairbanks, and then take the route again with longer stops on the way. You can travel your way, and since it is Alaska, you generally have no lack of things to see, experience, or explore.
There's a reason why every time I came back to visit friends after moving, or was moving from one city to another in the summer, I was willing to sacrifice an entire day to take the train. Even the 5th, 6th, or 7th time around it was never a disappointing experience. In fact, it was anything but.
In fact, a rather popular YouTuber recently hit this route while doing a travel by train challenge and while my only slight criticism might be that he must have had to cut out an insane amount of beautiful natural scenery to make this video…that would be true of any video that wasn't hours long, so fair point.
To Denali National Park
Seeing Denali is on many a bucket list, and rightfully so. Denali is an amazing sight, as is the park around her. Denali sits in the middle of the long Fairbanks-Anchorage route through the Interior, although not exactly at the half way point. Because of this there are many people who get on at Fairbanks and then off for a day, a weekend, or even weeks at Denali, and the same is true of Anchorage.
I don't know what the actual numbers are, but it would not surprise me if at the height of tourist season if these partial routes to Denali were more popular than the full route going all the way through. Fairbanks to Denali is actually a little bit faster than Anchorage to Denali, and despite the large number of visitors, this is a huge park with great bus tours for wildlife viewing, solid infrastructure, and permits for backpackers willing to go that extra bit of adventure to explore the seemingly endless square miles of this beautiful natural area of the Last Frontier that is Alaska.
There's a reason that Denali is such a popular park to visit and while there are also bus tours to, and throughout, Denali why not take a train down there before taking this bus tours that are in the park itself? This gives you the ability to see even more of Alaska's great beauty and guarantees comfortable travel along the way.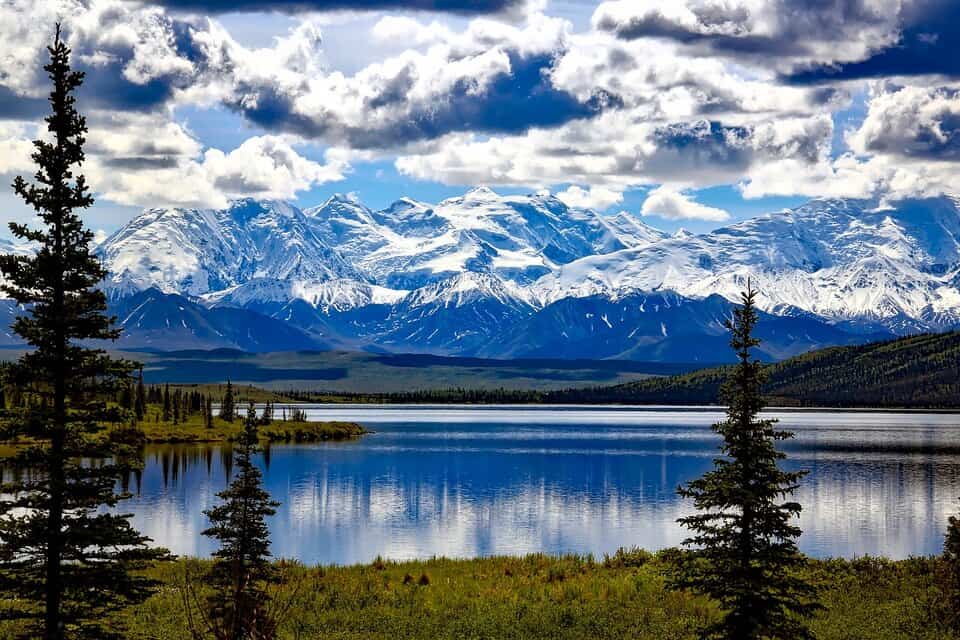 Anchorage to Seward
There is no train route that goes all the way down to Homer on the tip of the Kenai Peninsula (shame – though knowing the terrain, understandable), but you can catch a good chunk of the wilderness of the Kenai backcountry by taking the Anchorage to Seward route. Many consider this to be the most beautiful stretch of railroad in the entire state – and that is a big claim to make.
It's also one that can be pretty strongly argued for. This route is just gorgeous, and it was rated by National Geographic as one of the 10 most beautiful train routes in North America, and mentioned it as notably one of the more beautiful routes in the entire world.
This route include potential stops in:
Girdwood
Whittier
Portage
Spencer
Grandview
Seward
And you will be wanting to check prices for the Coastal Classic Train if you haven't explored this route yet…or even if you have. Seward is a wonderful town to check out, and this is the route that has some of those famous "drop off" adventures where there are well known trails leading to cabins by the lake and you head down and have only two times a day to be back up on route to hitch a ride down to Seward or back to Anchorage.
This is a route that is connected with many guided tours and even glacier tours that take place over multiple days as this will be the train that takes you to Whittier or Seward before you use a combination of cruises, hotels, and later train rides out in a few days to tie together the ultimate Alaska experience in this little section of the state.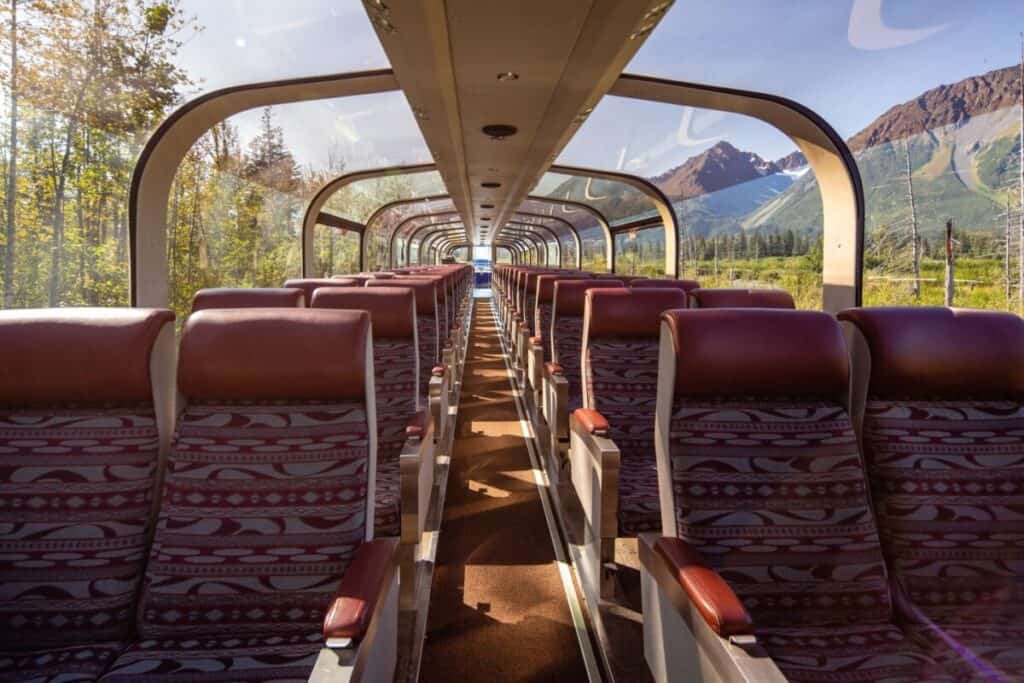 Which Train Route Is Right For You?
Given enough time, I could spend a lot of time hopping from one train to another, hopping off for a few days of adventure, then jumping back on for a new stop and new adventure. However, most of you will have itineraries and finding the right train route won't be hard because if you're going to Seward or Denali or Fairbanks it's easy to see which train is going to get the job done.
Despite the sheer size of the state, the travel infrastructure is actually fairly streamlined because there are very few areas of heavy population, and very few linkable areas where the infrastructure investment makes sense or is even possible.
Because of that, you can easily narrow down where you want to go. If you are traveling without an itinerary decide where you want to go. There's one route that heads down the Kenai to Seward, one route that heads up to Fairbanks (or down to Anchorage) or you can even stop at Denali part way there.
Whichever railroad route through Alaska you choose, you're sure to see beautiful sights and have a journey that is easy to remember for a lifetime.
Alaska Railroads: Rail Journeys You'll Never Forget
I am a big fan of the Alaska Railroad tours. Not only are these extremely important from the jobs perspective, but it is an experience that has the potential to truly strike wonder into visitors, give you something to remember, and take some time to slow down and truly enjoy this wild and beautiful piece of planet Earth.
Other Alaska Articles I Hope You Enjoy