Alaska is a state that I have a ton of love for, and this gigantic state that more than lives up to its nickname of "The Last Frontier" and offers a wide land to explore with some of the most unique towns, people, and experiences you can find anywhere.
There's a reason a trip to Alaska is on so many people's bucket lists but very few people think about the benefits of traveling Alaska in the Winter.
While this is understandable, and the majority of visitors should go with the summer visits as opposed to the harsher winter ones, for the right type of traveler there are many potential benefits that can actually come with choosing to visit in the off-season.
Not only is it possible to travel Alaska in winter, but there are multiple sights, experiences, and adventures that can only be had by visiting in winter, making Alaska winter trips very attractive to many adventure travelers seeking unique experiences.
Let's dive into this topic, one I'm very excited about!
In this article we will cover:
Why travel to Alaska in winter
What to do, see, and experience when traveling Alaska in winter
Special considerations to travel Alaska safely
Additional safety considerations
Other important bits of information for a great winter Alaska travel experience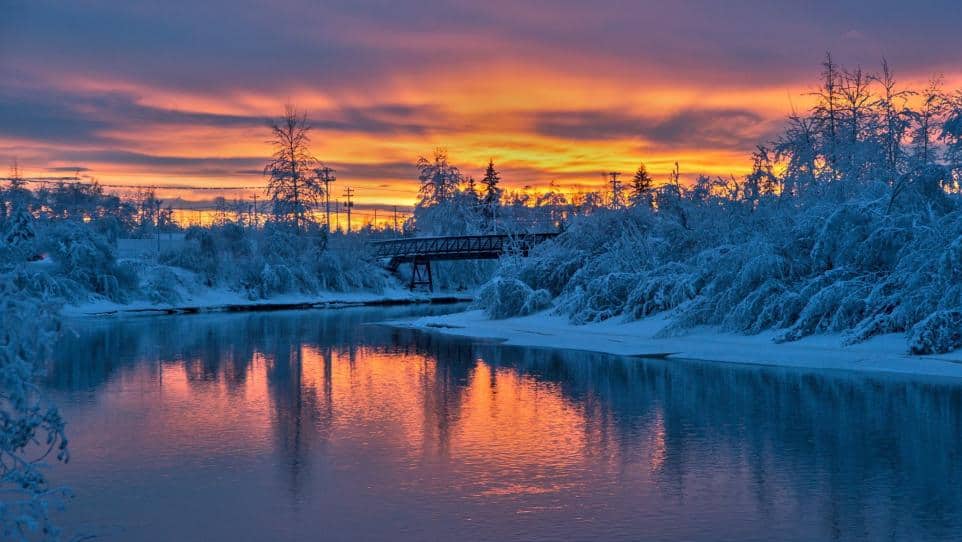 Why Travel Alaska In Winter?
There are many good reasons to want to experience Alaska in the winter, as crazy as that might sound to people whose idea of cold is 40 above zero, much less 40 below zero. While there are certain considerations to make (and being from a winter-based area like the Midwest versus a place like Florida does come into play because adjustment to extreme cold takes time and exposure), some people might want to consider what an Alaskan winter trip could offer.
This is an off the beaten path way to see the Last Frontier, but there's no question that winter offers certain sights, experiences, and adventures that can make for a once in a lifetime trip – and are well worth the inconvenience.
See The Northern Lights
When the sun is out 24/7 you have no ability to see the Northern Lights, and as someone who took nightly walks while living in Fairbanks regardless of temperature, I've seen the Aurora Borealis literally dozens and dozens of times…and it never got old or average.
Any time I'd look up and see a hint of…something, anything, I'd stop and watch for a few minutes to see if that "something's different" would develop into tell-tale wisps, and sometimes living rivers, of green and yellow moving lights.
Every single time I'd stop and watch the show whether it was 2 minutes or 20. There is nothing like seeing the Northern Lights in their full glory, and more than once when it was over I'd stop and see others who had been walking who stopped and watched…and sometimes were locals who had lived in Fairbanks 50+ years. Even for them, a show by the Northern Lights was something to stop and admire.
If seeing the Northern Lights is on your bucket list, then traveling to Fairbanks Alaska in winter might actually be a trip that you want to consider. Also from experience: seeing the Northern Lights while soaking in the Chena Hot Springs is also a truly amazing and unique experience that you won't be likely to forget.
A few resources for getting guidance on northern light viewing tours or experiences:
Below are some beautiful pictures of the Aurora in all her glory, but anyone who has ever seen the Northern Lights in person will tell you that no matter how good the picture, it doesn't come close to the beauty of seeing them dance in person.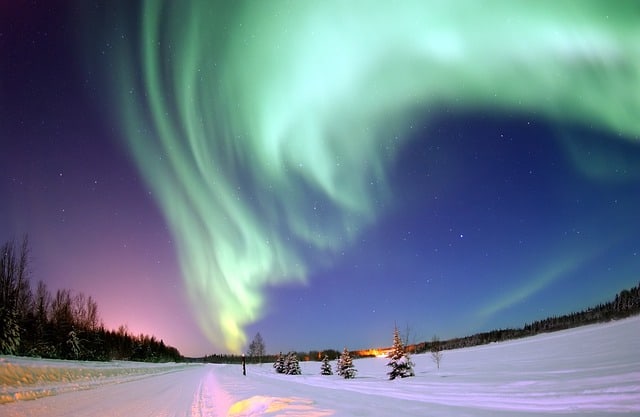 View (Or Participate In) Wasilla's Frozen Lake Golfing
Have you ever played golf on a frozen lake? One thing about the long winters in Alaska, especially since a lot of money is made in the summer, you have long winters where you have to figure out a way to entertain yourself to avoid the Long Winter Blues.
And Alaskans are AMAZING at figuring out how to entertain themselves during the winter.
Frozen Lake Golfing is something that Wasilla came up with and this has become an annual tradition here, and is an idea many other Alaskan cities and towns have borrowed and made a version of in their own neck of the massive winter wilderness.
This is just like it sounds like with large holes cut in the ice (but not all the way through) and these often 9 hole courses have groups of friends participating, with the mandatory breaks to bars along the way and sometimes even truck delivery service for more drinks as you are playing a truly one of a kind golfing experience out in the frozen tundra that makes Lambeau Field look like a beach by comparison.
Mark Kelley's Image 2399 is not only a good picture of a few winter golfers enjoying their time on the ice but also describes a bit of the experience as they're enjoying their early spring game on the ice.
If you want a unique experience, there aren't many people who have played golf on frozen lakes when it's 20 below or 40 below…or at all for that matter. This is a great item to add to a bucket list and a story to tell for years to come…not to mention some truly great "WTH?" Facebook or Instagram pics for your friends to see.
The Famous Iditarod Dog Sledding Race
The world famous Iditarod dog sled race takes place every year and is one of the more well-known traditions in the state of Alaska. Celebrating the historical event of a medicine run in 1925 from Anchorage to Nome to deliver life-saving medicine as an epidemic broke through the town, the medicine could only be delivered with teams of dog sleds making the long and very dangerous winter run to get the needed medical supplies to the quarantined city.
The harrowing history of the run can be found in more detail here, and there are entire books (and deservedly so) on this incredible story. The Iditarod celebrates the incredible efforts of the mushers to save so many lives by getting the medicine to the city in record-shattering times.
The modern route is planned out and competitive, and in multiple places you can watch the racing teams go by before putting up for the night or heading to the next leg, and the celebration with other Alaskans and dog sledding enthusiasts is great. It's definitely worth the experience and the annual event is a highlight for many during the winter.
Here's a great video all about the Iditarod Dog Sledding Race from Alaska Public Media
If you can't reach the very beginning or very end, that's okay. There are multiple points where you can see the teams passing by, but without a doubt being at the finish line when the last teams are crossing, or there at the beginning when everyone starts off, it's a great experiences and a very uniquely Alaskan experience that you will not be likely to forget.
Winter Solstice Celebrations
December 21st-December 22nd. Trust me, that's a couple of dates every single Alaskan knows. Was it state independence? Nope. Remembrance of a historical event? No. Random party that got out of hand and became an annual thing?
Actually that's a pretty good guess for Alaska, but no, it's not that, either!
That is the Winter Solstice which marks the darkest day of the entire year. After that night we start regaining light. Second by second, minute by minute, very slowly light returns to the state as seemingly endless winters inevitably give way to the march of a new Spring.
You can find plenty of Winter Solstice celebrations because when it's that dark and cold for that much of the year:
It really does mean something that you've hit the halfway point and will be reclaiming light
You need some celebration to brighten up the long streaks of dark and cold days and nights
Celebrations vary depending where you are. Fairbanks had a lot of Cabin Parties with friends and colleagues, and many local bars would have specials or even parties going on. Downtown Fairbanks would have Aurora viewings, and roll Winter Solstice into an extended Christmas and holiday celebration, as well.
Anchorage has all that and even more. The Eagle River Nature Center traditionally holds annual celebrations that are a lot of fun and attract plenty of locals looking to socialize, connect, and enjoy some celebratory times going into a new year. Anchorage also often has fireworks just on the Solstice, marking a day that is so important to Alaskans.
Once you live up there you become VERY connected to how light/dark and weather affects your mood, your mental health, everything. So once you've been dealing with months of extreme darkness and cold, often longer than an entire winter depending on where you came from before Alaska, and that's only the half way point – you very much want to celebrate the very moment that the light begins returning to chase away the darkness.
Chena Hot Springs
I have some very fond memory of going to Chena Hot Springs and enjoying stunning views of the Aurora while sitting outside in the Hot Springs. Breath froze on hair above the water since the air was -30, but the water was over 90 degrees so it was comfortable. And sitting in hot springs under a winter sky when the Aurora is in full blast – that's pretty amazing.
Located north of Fairbanks, Alaska, there's shuttle service that will take you to and from Fairbanks, and depending what time of year you visit there will be many great activities available. Some of these are very tourist/first-time visitor focused, others are equally cool even for long-time travelers or residents. If it's winter, definitely check out the Aurora Ice Museum. I'm stunned how they manage to do that every year.
The Chena Hot Springs Website is linked and will give the most up to date information, but there are plenty of things to do no matter what time of year you're visiting, but to me the winter experience up there is by far and away the most special of all, and can make for some pretty crazy photographs.
Also I highly recommend following their Twitter feed, because pictures like this really show the beauty of the area and they have some fine photographers occasionally dropping a gorgeous picture of the state like this one: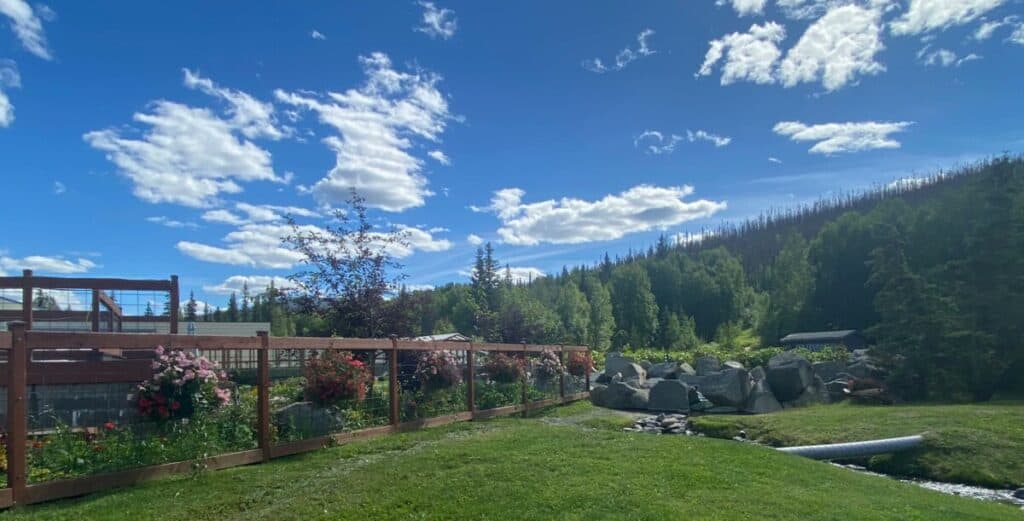 Obviously that's not a winter picture – if you visit in December it's all about the frozen landscape while in a bathing suit in the open picture, but personally I find those fun and interesting anyway so it works out no matter what season you go here.
Do You Like Ice Fishing?
If you like ice fishing, I can't think of many places that offer the quality of ice fishing that Alaska can. Having the water freeze through to solid ice isn't a problem, and Alaska fish are big and aggressive – which can make for a lot of fun when you hook a big one. If you have experience there are plenty of options for winter guides in almost every part of the state.
Places like Chena Hot Springs and other resorts that are active with winter tourism generally offer packages for ice fishing for a day and they can work with true beginners who want to experience something different for the first time to ice fishing veterans who want to see what challenges a state like Alaska can throw their way.
Some of these packages are extremely reasonable, and if you get fresh fish that can go from ice water to the frying pan for a delicious fresh meal that will warm you up to your soul, then even better!
Snowmobile or Dog Sled?
There are distinctive types of experiences that you can have in Alaska in the colder months, and a couple big ones involve how you can see an area. While cross country skiing can be fun, if you're not used to bitterly cold weather then that might be a bit much, especially on the first couple days.
However, guided snowmobile tours can be a wonderful way to see an area. Alaska has no shortage of wilderness and no shortage of beautiful sights and scenic outlooks. Hitting high speed on those snowmobiles is a great rush. They're a lot of fun, and sometimes you can get to places in winter that are outright inaccessible in summer months (lots of swamp or swamp-like land).
There's also traveling by dog sled. Mushers showing you the area and through some of the best sights of the wilderness off the beaten path, huskies happier than all heck to get back to pulling the sled and running out in the open. They live for this type of thing.
These are just a couple of popular options but they show the unique ways that you can experience Alaska first hand in those cold winter months.
Alaska Winter Travel Safety Tips
There are multiple things that need to be taken into consideration to stay safe while traveling Alaska in winter. While I love the state and strongly encourage adventurers who aren't afraid of off the beaten path adventures to consider visiting Alaska in the less popular winter months, it's still important to plan a trip carefully and take all the proper preparations and precautions.
Winter Dangers Include:
Dangerously low temperatures (a vehicle breakdown or even severely sprained ankle can be very, VERY bad things)
Seasonal Associative Disorder (SAD) makes for short tempers and increases mental instability in some people
Higher levels of depression and/or anger
Higher rates of violent crime in cities
Higher rates of violent crimes towards women in winter
Alaska is still a very, very wild land, and the winter conditions are incredibly harsh. This isn't a land that raises the meek of spirit, and even the nicest person can have some very bad days when they haven't seen sunlight or a temperature north of -30 F for weeks on end.
Make sure you're prepared. You need multiple layers and winter gear that is built for extreme cold. Most winter gloves are not built for -20 much less -40 or -50. A stocking cap is what you wear underneath a fur lined winter hat or heavily insulated fur hood. Lined jeans are great – and you still want long underwear underneath. Double up those heavy wool socks to keep the toes warm.
And that's just being prepared for weather. Understanding the potential challenges, difficulties, and how things work in extreme cold and extreme environments is critical to making sure you have a safe and awesome vacation in the Great North during the annual Great Winter.
While I never want to scare off people from a state I'm so fond of and love so much, it's still crucial to give the important information for a safe
Female Travelers: Winter Crime Issues
While I hate talking about things that put a bad light on places I love, I never want anyone to be hurt because of a lack of information. Alaska has a crime problem. They especially have a crime problem when it comes to violent and sexual crimes against women, and an overwhelming number of those take place during the winter months.
Major Alaskan cities can be very dangerous places for women in the winter and female travelers, especially solo female travelers, need to take all common sense precautions when traveling the state, especially in the winter months. Be doubly careful at night, especially in Anchorage, and don't be afraid to have something for self-defense like pepper spray.
While a massive amount of this can be traced to domestic issues in places where there are no police, law enforcement, during rough seasons (which is a good chunk of the non-urban state), taking all the proper precautions to travel safely and take the appropriate precautions is crucial if you're a female traveler in Alaska, especially if you're going solo and in winter, which I might not recommend unless you're experienced with traveling solo and taking appropriate actions to protect yourself.
A Winter Alaskan Travel Experience Can Be Unlike Any Other
Please don't let any warnings about being careful or prepared scare you off. This advice is absolutely crucial for safe and fun travel, but that doesn't mean that there is danger around every single corner, but I believe in giving all the relevant information so travelers can make informed decisions. I personally love Alaska and believe those travelers wiling to brave frigid temperatures and harsh winters can set themselves up for the trip of a lifetime unlike any other.
It might not be for everyone, but for those of you willing to be a little uncomfortable for some truly unique and life-changing experiences, I recommend it. Not only is it cheaper than the summer months, but you get to see and experience the real Alaska, will win major points from Alaskans for visiting during the "Character Building" time of year, and certain experiences like seeing the Northern Lights, sitting in the Hot Springs at -40, or seeing the snow covered landscape via guided snowmobile or dog sled tour.
These are adventures that will call to certain types of souls and if you find you love Alaska in the winter, it's a much better thing to contemplate moving there after some winter time versus summer.
Even if you never intend to move to Alaska, those winter travel experiences will make amazing memories because of a stunning vacation…and trust me, stories back at work about sitting in a Hot Spring at -40 watching the Northern Lights will turn heads and get attention.
Other Alaska Travel Articles of Note