While pulling a travel trailer to Alaska from the Lower 48 is certainly possible, it can definitely be tricky. There is some good news, though: the highway is much better maintained, more paved, and easier to travel than it was over 20 years when I was preparing for my first time moving up to The Last Frontier. Just the fact the majority of the Alcan Highway is paved now tells me how much things have changed the past few decades because not so long ago that wasn't necessarily the case.
Pulling a travel trailer from the Continental United States to Alaska is 100% possible, however this is a very long and challenging journey that requires planning, emergency funds, and smart preparation to try to make the move as smooth as possible.
Even so, pulling a travel trailer to Alaska is no easy task. That's thousands of miles/kilometers of travel across highway that hugs hills, mountains, and cuts through long swaths of wilderness where there aren't towns close by if you break down. And if you think you can rely on Google Maps along the way you're in for a serious surprise if a breakdown takes place.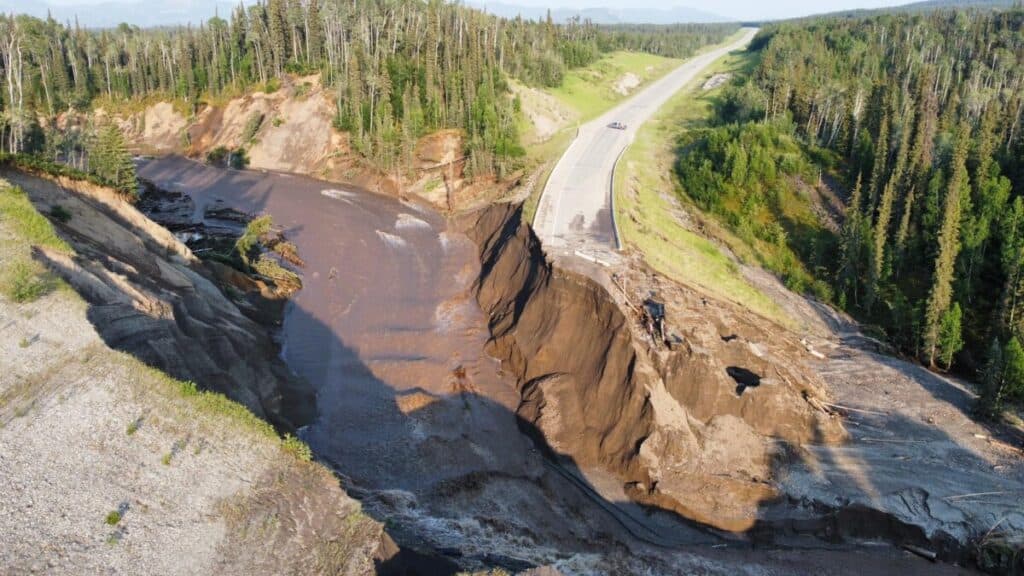 How to Prepare for Pulling a Travel Trailer to Alaska
This is going to be an undertaking, and one that you shouldn't take lightly, but the right preparation can go a long way to making this an adventure to remember instead of a mess of hiccups and disasters you'll want to forget even months later.
We're skipping extremely obvious items like "Vehicle" and "Trailer," because if you're doing this level of preparing I'm going to assume you're not a total idiot and understand the absolute basics that you need to have.
Additional spare tires
The tools to change a tire or make very basic repairs, and a roll of duck tape
Paper maps
A planned trip that includes multiple extra days for the inevitable "just in case" moments that WILL come up on this trip
Extra days because sometimes you'll just want to go slow
There's good news here. If you're talking to people who traveled this route prior to 2000, well it was just a much rougher route back then. Both the Alaska side of the highway and previously infamous sections of the Dawson or the Alcan are much better than they were back then. That's not to day that there aren't potentially long stretches where you drop to 30 because it feels like a constant washboard, but the road is solid and as long as you stop when gas is available, you'll always have enough to get to the next stop.
Do all the basic maintenance. Test the lights, the blinkers, run it across a few speed bumps close to home then test again to make sure everything is properly secured. While this trip is a safe adventure for the well-prepared, that preparation is key.
Because in isolated northern Canadian cities things like repairs can get quite expensive!
Thousands RV or Pull Trailers to Alaska Every Year
The good news: thousands of people pull travel trailers to Alaska every single year, many of them driving RVs and pulling trailers behind them. In other words, this isn't a situation where a lot of people try it but only a few here and there make it without incident. Literally thousands of travelers make this trip every year and come back just fine with vehicles and trailers in good shape, though trailers maybe noticeably a bit dinged up, but still fully functional.
The biggest complaints are two-fold and one is plenty easy to prepare and deal with:
Most travelers run into at least one or two flat tires at some point that need repairing (trust me – patching is NOT a long-term solution on those roads)
Most travelers spend weeks up in northern Canada and Alaska and almost all of them say it wasn't nearly long enough
I feel that second one…I really do. But only so much can be done about that (check out the rest of the site for Alaska moving articles to do just that).
If you took the advice to get good tires changed on before the trip and to have spares on hand you will be good to go when dealing with the second one.
Since you know pulling a travel trailer to Alaska whether camping, traveling, or moving is fully viable, let's get down to the last part that makes traveling a little bit smoother: the etiquette!
IMPORTANT: While it's understandable that you will want a firearm if you're doing a lot of camping in bear country, do NOT bring a handgun to Canada. Because of laws it's nearly impossible to bring along. If you are bringing a long gun, this is doable but make sure to do all the paperwork ahead of time and follow Canada's regulations perfectly. If you do this, you shouldn't have too much trouble.
Some Etiquette While Driving to Alaska with a Travel Trailer
These are generally basic things and some go beyond driving but if I can save you a dirty look or two or a gruff response from a station attendant because you stepped on some local customs, I'm all here to help!
Don't call it the Alcan Highway (for some reason) while in Canada – call it the Alaska Highway
Make sure pets have all shots and Vet records up to date
Having an up to date passport is the easiest way through the border checks
Remember the speed limit is kilometers per hour, not miles per hour
Have a high limit credit card for emergencies
Don't insult Tim Horton's – just don't
Keep those in mind and you'll be in for some smooth sailing on your journey!
Pulling a Travel Trailer to Alaska: In Conclusion
Traveling to Alaska can be a challenge, but going while pulling a travel trailer is absolutely possible. You need to make sure your vehicle, trailer, and planned trip all in tip-top shape before starting out, but this is a very viable trip and one that will be sure to produce wonderful memories of your adventurous travels.
Take the proper precautions outlined in this article and you will be all set to go, pulling your travel trailer to Alaska for the adventure of a lifetime!
Other Articles of Interest
How to Move to Juneau Alaska (Coming Soon)
How to Move to Alaska from the UK (Coming Soon)