Alaska is the largest state by far, to the point where as one friend once mentioned: "If you split Alaska in half, Texas would be the 3rd largest state." The sheer size and scope of the state that is appropriately called "The Last Frontier," but for those of us who don't own a car or for the many people without a license that brings up a really good question: how do you travel around Alaska without a car?
The interesting thing is that depending on where you're going, what you want to see, and the experiences you want to have, it's actually fairly easy to get to many of the main points without having your own car. On the other hand, there are many awesome places to visit off the beaten path and without a car, it's admittedly a really hard trip to pull off.
But if you don't have a car or license, or don't feel comfortable traversing the admittedly sometimes gnarly or intense roads, the good news is that you still have an overabundance of sights, experiences, and reachable destinations to pull together the trip of a lifetime. With or without a car.
Let's jump right into it!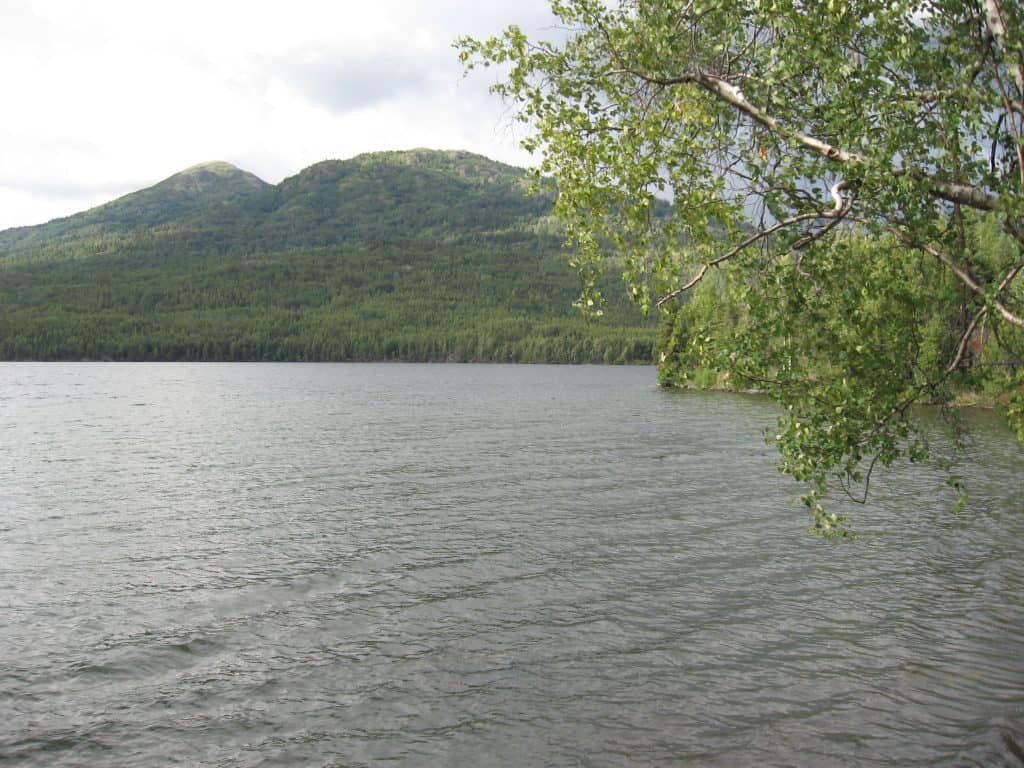 Hitchhiking Culture (Especially around Fairbanks)
I can speak a lot more to Fairbanks than other areas of Alaska on this one, though I have friends from other regions who mentioned that this isn't all that uncommon. Alaska is one of those areas where there is still something of a hitchhiking culture, and the city of Fairbanks was one where I experienced this a lot first hand.
For disclosure: in my Alaska days I was six feet tall, three hundred pounds, full bearded mountain man look and as a friend put it "You look like a brick wall with kegs for legs." So if someone like me frequently got picked up without ever putting out a thumb because people would just stop and ask if I needed a ride or not, most people won't have an issue with finding a ride through the area immediately in or around the city.
Hitchhiking is especially common in the Interior and you could count on people slowing, whether or not you put out a thumb, and especially if you put out a thumb.
There's a great article in Alaska magazine in regards to some hitchhiking adventures he had traveling the Alaska Highway.
This is one way to get around the state if you're comfortable with it. As always take the appropriate safety precautions if you do decide to hitch, but this is an option that is surprisingly open and available.
The Alaska Railroad
There are two main routes that the Alaska Railroad offers, and for those of us who have done lot of travel via hitchhiking, walking, and with a pack on the back, catching a train is a great way to get to close to where you're going. The Alaska Railroad has two major routes: straight north of Anchorage to Fairbanks, and straight south of Anchorage to Seward.
While this is hardly an impressive route map, one thing about Alaska is despite the sheer size there are only a very small handful of "hubs" where people regularly travel or can go to check out a urban-like style of life or to travel out from that area. Because of this, a train system that covers Fairbanks, Anchorage, and most of the Kenai including Seward actually covers the majority of places in the state you would be likely to check out.
Or it will get you from one place with an airport to another, from one base where most adventure guides are based to the other most common home base for those types of guide businesses.
Very far out places like Dutch Harbor, Juneau, or Nome aren't connected but the Fairbanks-Anchorage-Kenai connection is where 95%+ of visitors want to visit and the railroad connects them all while giving a special opportunity to relax and view the true wild of Alaska from viewing cars make the railroad a really special experience.
Not only that, but you can viably get around, see the state, and then only need to worry getting around the towns you end up in whether it's via car rental, walking, bikes, or Uber.
You can take a look at this Alaska Railroad Route Map to see just how "straight" those route options are.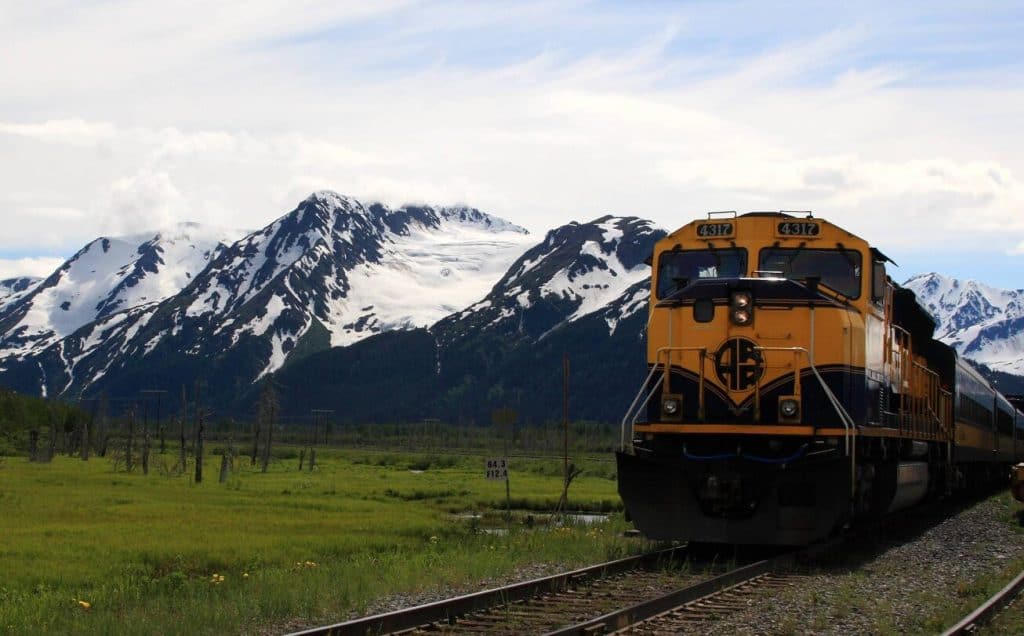 Anchorage – Fairbanks Train Route
This is one of my favorite routes. To the point where every time I go back to visit this is the route I take back and forth. It's a 12-13 hour trip one way, but the scenery is so stunning, the food so good, and the trip so great that I am happy to give away two entire days to use the trains to commute between the two cities. One day each way, and the trip never gets old.
And if you find yourself getting your energy levels attached to the amount of light, a 13 hour trip might not shut down the entire day. Even if it does, the history lessons, the amazing scenery, good food, and overall fantastic experience goes at a relaxed pace that lets you truly see and enjoy all the natural beauty the Last Frontier has to offer.
Anchorage and Fairbanks are also the two main transportation hubs in the state with Fairbanks in the Interior, and Anchorage on the central coast. Because of that not only does this train route offer a once-in-a-lifetime experience but it also is a solid way to travel to the biggest city, as well as the main sector of the Interior all without traveling with a car.
South to Seward Route
This doesn't split off to the Kenai (learn your Alaska Geography if that doesn't make sense right now) but it does go south past Girdwood, Whittier, Portage, Spencer, Grandview, and finally Seward. These are many of the main towns/settlements heading south of Anchorage and in fact covers most before hitting the more famed settlements on the Kenai like Soldotna or Homer.
However, this offers some really special opportunities including some side routes where the train stops, you get to hike a path through the woods to a cabin by an isolated lake that looks like it's straight off a post card, and the train will be back in three days to pick you up.
If that's your thing, the opportunities are there, and this further expands the parts of Alaska that can be easily reached without car.
Trains to Denali
Denali National Park is one of the most popular national parks in the United States and anyone who has been there can tell you why. Featuring Denali, the tallest mountain peak in all of North America, calling a place "must visit" in Alaska considering how many months you could spend exploring the state and barely sampling everything the Last Frontier has to offer, but Denali is right up there towards the top of the list of places to visit up in the great north.
Trains go to and from Denali both from Fairbanks as well as from Anchorage. This makes the train a fantastic way to travel through the state and to see Denali before heading to the next "major" urban center where you will have plenty of options for traveling to explore that area or even the surrounding areas depending on what makes up your perfect Alaska itenerary.
Trains are a great way to see the state of Alaska. If you are interested specifically in the options for getting around and seeing Denali itself, check out this article on how to get around Denali without a car.
Bush Plane
Maybe you're the type who wants to visit places way off the beaten path. If that's the case, chances were you were going to have to grab a bush plane, anyway. Whether invited to a native village, visiting a lake or cabin in the middle of nowhere, or wanting to visit a coastal town on an off-day from other flights, bush planes are a common way to get around where nothing else can get the job done.
I wouldn't say this is a common way to transport tourists, but it is not uncommon at all as a means of getting around the state of Alaska.
Most tourists who show up for this will be for an hour or two to get some sight seeing via air, which is a great way to get a full idea of the vastness of the mountains, the sprawling lands, and some otherwise inaccessible glaciers that make up stunning coastal areas – or even flying over the interior where you can go hundreds of miles without running into another person.
Alaska is home to more pilots per capita than any other state with 1.5% of the state's population being actual active pilots. As this article shows, they remain not only a part of the culture but an absolutely essential part of the economy.
This culture is alive and well, and can grant access to many parts of the state that would otherwise be off-limits from any other practical means of travel.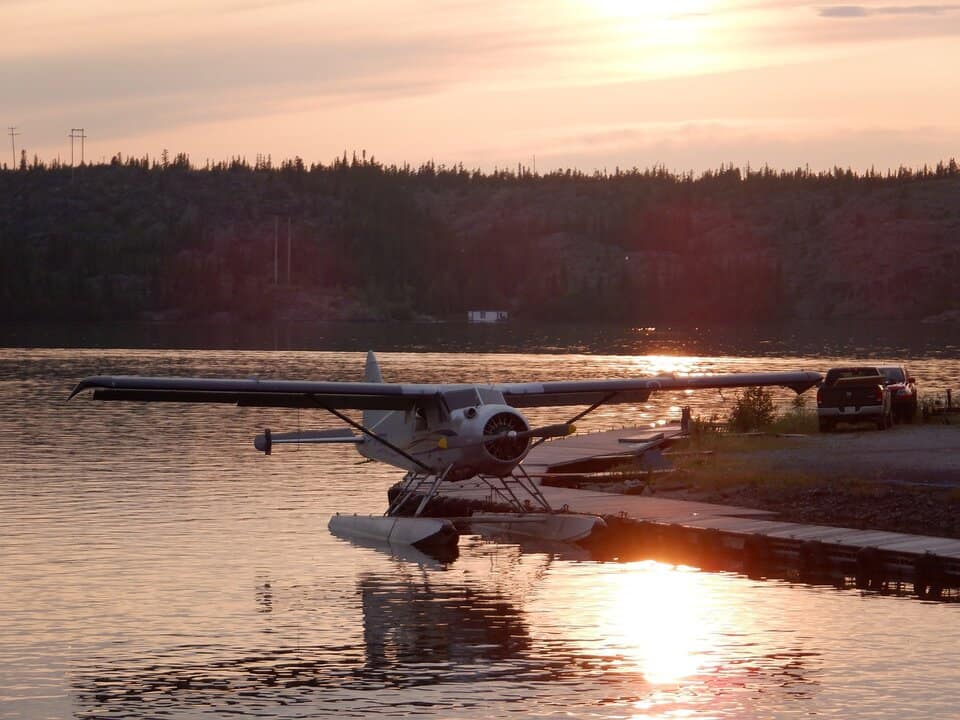 Organized Bus Tours
These are particularly common to and from Denali, especially coming out of Wasilla and Anchorage. Organized bus tours are common in narrow areas, but "narrow" by Alaska standards still means quite a bit of space.
Denali is one of the most popular sites in all of Alaska, so it makes sense this is where the lion's share of organized bus tours take place. However, there are still plenty that come out of Anchorage and check out certain towns, roads, and scenic outlooks on the Kenai Highway. In other words, you will need to do a little bit of research to find out what routes are there that can work on your schedule, but you might be amazed at the options.
Organized bus tours in Alaska are a great way to check out some of the more popular areas in the state.
This site is a great resource for seeing what's available, but if they don't have what you're looking for make sure to call around and see who you can get ahold of. There are new tours every year so your choices will grow.
Local Airlines, Busses, & Ferries
Anchorage, Fairbanks, and Juneau all have local bus lines in the city. This is a viable option for getting around although it's important to note that both Fairbanks and Anchorage are very spread out cities. This means that even with a pretty good bus service, you still might need to do some serious walking or cycling to get to the exact areas you want to check out.
This is more a concern if you have very specific areas to visit in mind that don't have service. There is some good news on this front:
There are things to be seen everywhere in Alaska, especially under the pretty safe assumption you want to see some truly wild places if you're interested in Alaska
Many "hot spots" have direct transportation especially in the limited urban areas abailable
There are also private bus companies that specialize in certain types of Alaskan tours in regional areas, outdoor hunting or fishing outings that might take you places via bush plane, and aside from cruises there are also ferries for reaching places like Kodiak Island.
In other words, there are some really unique options out there, but you do have options.
Fairbanks, Home of "People of the Bike"
If you are spending some time exploring an area when you hit Fairbanks consider getting a bicycle if you're the outdoors type. When I lived there I wrote a creative non-fiction piece for a writing workshop entitled "People of the Bike" to describe the many people who live in cabins on the outskirts of Fairbanks itself. Let me take a moment to explain.
A LOT of students and residents of Fairbanks live in cabins all around the outskirts of Fairbanks, and considering how spread out the city is, that means a whole lot of cabins located 1-4 miles away from the city and many of them choose to ride bicycles.
To the point where in winter, when I was walking into the city on snow packed over ice, I hear "To your left," and turn to see a cyclist riding with his hands folded behind his back, making the turn from balance alone. On snow and ice.
And it turns out that's not overly uncommon.
Being a history nerd, I immediately thought of stories of Genghis Khan's mobile horsemen and how the Mongols under the Khans were people of the horse, and I decided then that Fairbanks-ians were people of the bike. Plus to this day it's the only place I've ever seen someone actually actively using a penny-farthing bicycle. And while walking I was passed on two separate occasions by two different people riding one of these.
And for those of you who don't understand how wild that is: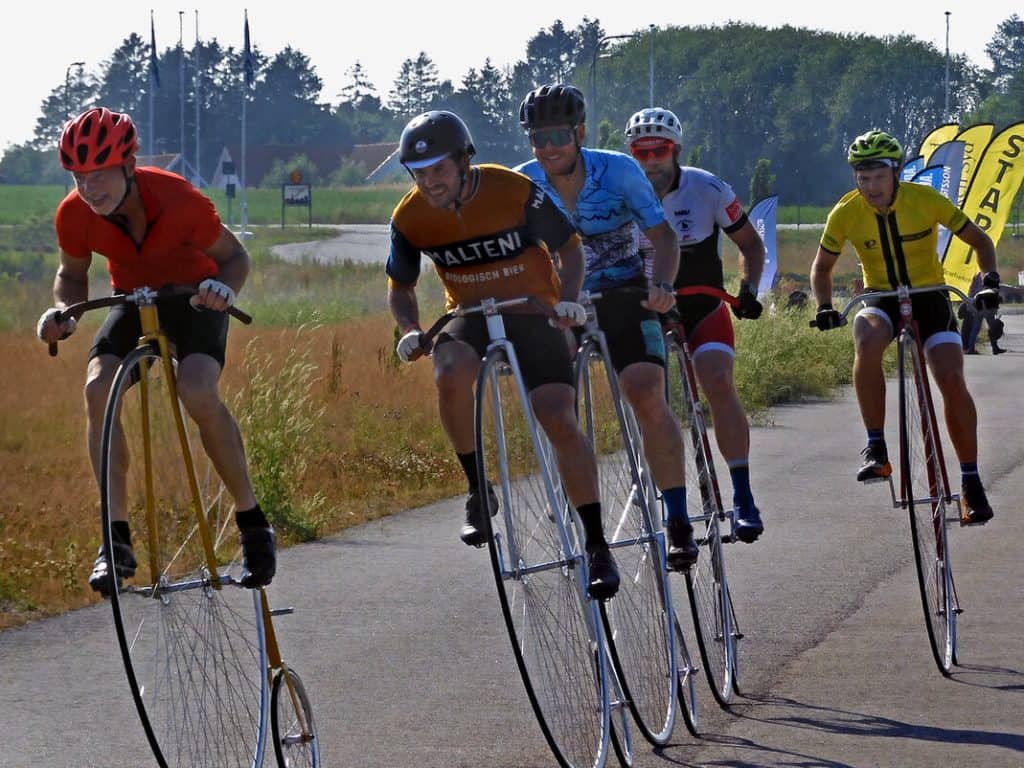 So the point of that story, aside from being a funny anecdote on how the hell I know what a Penny Farthing bicycle is, is that bicycle rentals are very much a viable option in Fairbanks for visitors who are young, in good shape, and don't mind spending a few days really exploring the local city.
Not all of us see days of bicycling as fun or a viable way to get around, but for those of us it works for, it is a very viable option for in and immediately around the city of Fairbanks. Alaska travel without a car is quite common in the Fairbanks area even for residents.
How to Get Around Anchorage Alaska without a Car
I'm not surprised by the idea that so many people are interested in Anchorage specifically. Considering around 40% of the entire state's population is Anchorage and it's a central transportation hub for getting to the rest of the state, it's going to get more than its fair share of visitors.
The good news for visitors who have no interest in renting a car to drive through the state is that there are tons of options for getting around both in and around the city of Anchorage.
Anchorage Public Bus Routes
Anchorage has a very good public bus system that hits most of the major areas throughout the city. A day pass can still be had for $5 or less, and with 15 bus routes covering 674 stops, you shouldn't have any trouble getting around the biggest city in Alaska and seeing everything that it has to offer.
Bus Tours Out of Anchorage
Bus tours go out of Anchorage to popular spots like Denali, Soldotna, the Kenai, or even curiosities like Whittier (cool little town, look it up if you get a chance). This gives a great way of getting out around to points of interest outside of Anchorage without a car and while the routes are admittedly limited to certain schedules and/or itineraries, these can provide for some incredible experiences, and you don't have to worry about driving.
You get to sit back, enjoy the views, and have those cameras ready for the next great shot.
This is a good resource to take a look at some of the more popular bus tours that are based out of Anchorage Alaska. Check before your next trip to see which ones are available and running.
Walking Tours in Anchorage
There are multiple walking tours around Anchorage. Some are themed, others are general, but whichever you prefer there are plenty of options for seeing the historical, the new, the odd. There's plenty to see in the big city and there are many walking tours available to help you explore whatever it is you find most interesting about the large port city.
Rent a Bike in Downtown Anchorage
Bicycle rentals are widely available downtown. While the Tony Knowles Trail might be the most famous and well known one in the city, there are plenty of great trails for biking around the city. Many of them have scenic overviews and the trails aren't designed to be completely out of the way, they run you by places worth seeing, or even creating a more comfortable way to get around certain areas of town.
Renting a bike is a wonderful way to explore the city, the trails, and of course the truly amazing parks.
Anchorage is not your normal city. Renting a bicycle to check out unique downtown museums and then hitting parks and tails that feel completely surrounded by wilderness just a mile away isn't a pipe dream – it's a possible reality while exploring this city.
Uber & Lyft Operate in Anchorage Alaska
Anchorage is a modern city and while Alaska's distance from other developed areas can make certain things challenging, the Internet and smartphones have full infrastructure up in the urbanized areas in Alaska so services like Uber and Lyft are widely available.
That means plenty of options for getting around by car even without having to rent one or drive one yourself. If you're visiting during the summer months when most people do, you'll find a surprising availability in part because the reaction to non-stop sunlight that many of us living up there had was to be up and alert 22 hours a day for four months of the year.
When you add that to a side hustle and self-reliance culture, it means there's always a car ride available if that's the only option you end up having.
What About Alaska Cruises?
Going the cruise route isn't the worst way to go, especially if whale watching and glacier viewing are very high up on your list of things you want to experience when visiting the U.S.'s largest and most untamed state. While this won't bring you into the interior, and there are even many coastal areas that cruises don't visit, this can be an extremely good way to see Juneau, Sitka, and Anchorage.
For people who can take a longer vacation, going with a cruise for the first half of the vacation, landing in Anchorage, and then taking the trains to see other parts of the state is a fully valid way to check out more of this amazing site. In fact, it's a fantastic way to have a vacation you'll remember for a lifetime, especially on your first trip up there.
When the question of how to travel to Alaska without a car comes up, going on a cruise is a great solution for many people to see the state and not have to worry about planning out that coastal itinerary when everything seems amazing and the possibilities can frankly be paralyzing.
Let the cruises set up the schedule, give you time to see the sights, spend a day or two exploring some beautiful and unique communities, and you can do all of it without having to worry about automotive transportation at all.
Sample Car-less Alaska Vacation Itinerary
This isn't necessarily the type of step by step vacation schedule that you would want to try (although it sets you up for a mighty, mighty fine time if you do) but it shows how much carless travel is indeed possible in Alaska.
I fully realize most people don't have months to travel on vacation but again, this isn't about a full itinerary, it just shows you the many, many options available without needing to take or rent a car. Take this information to customize your own trip!
Day 1: Fly into Juneau. Explore the smallish downtown via foot or bicycle rental (around $30 for a full day bicycle rental).
Days 2-5: Look at guided tours to Mendenhall Glacier and/or Tongass National Forest. Guided tours handle all transportation, if I didn't arrange this ahead of time I'd ask the hotel for recommendations. I really love exploring parks and glaciers so I might spend more days here than others.
Day 6: Fly from Juneau to Anchorage.
Days 7-9: Explore the world famous hiking trails in the city using Lyft/Uber to get there or renting a bicycle for a few days to get around myself.
Day 10: Focus on specific places I want to see in the Greater Anchorage Area or neighboring cities like Wasilla.
Day 11: Take the Alaska Railroad train from Anchorage to Fairbanks and enjoy one of the best 12+ hour train rides in the world, kick back with a local micro brewed beer at the hotel room in Fairbanks that night (Pro Tip: The University of Fairbanks Alaska offers summer tourist housing where you can rent an entire apartment on the edge of campus and the hiking trails on and around campus are extraordinary)
Days 12-16: Do a lot of hiking, rent a bicycle, and occasionally use the public bus to get across town. Look for local guides to check out the small interesting satellite towns and to head north to some truly wild scenic views and rest stops off the main road.
Day 17: Take the train from Fairbanks to Denali. I might head back to Fairbanks, in part because I know the area extremely well and still have many friends there, but for a normal long-travel vacation I'd plan on staying at Denali for 2-4 days.
Days 18-22: Take advantage of guided bus tours in and around Denali, possibly treat myself with a helicopter tour and or fly over with a bush plane for a broad strokes view.
Day 23: Take the train from Denali back to Anchorage. Takes most the day, but again, what an experience!
Day 24: Take Bus Tour to Whittier AK for a one-day visit
Day 25: Take Bus Tour of the Kenai Highway focusing on Anchorage to Homer (Explores Kenai Peninsula on the way). Another alternative is to take the train to Seward which is amazing, but it is a shame to miss out on seeing Homer, Alaska.
Days 26-30: Enjoy Homer. Take a Water Taxi to check out Grewingk Glacier State Park on at least one day. Take a halibut charter. Walk around town as it's relatively small and very easy to get around on foot to all the great restaurants, art shops, and docks or check out the Homer Historical Trolley for a neat in-town experience.
Day 31: Take the Homer Stage Line bus to Seward, Alaska.
Day 32: Explore Seward on foot and confirm cruise details.
Day 33: Seward has multiple interesting cruises that stop in Kenai, Whittier, and then hit the full range of coastal communities in the archipelago area around Juneau before stopping in Vancouver 6-12 days later.
Look at that. Seeing the state in-depth with a month that is very crammed together with all there is to see and do, and not a single day where I needed to drive a car. When I lived in Alaska I didn't have a car or a license and it was never an issue. There are plenty of options for getting around and finding your next adventure.
Alaska Travel FAQ
This is hardly an all-encompassing list, but these are some of the most common questions about traveling in and around Alaska without a car.
What is the best way to travel Alaska without a car?
There are multiple options for bus, train, and plane travel. These will get you to the majority of places you want to go, and there are even some specialty options with bush planes or ferries depending on the exact destination.
Are car rentals available in Alaska?
Car rentals are available in the major cities of Anchorage, Fairbanks, and Juneau. This is another option for getting around, but for those who don't relish the idea of driving, consider Uber and Lyft in the larger communities. This won't be available everywhere, but it is a viable option in some of the larger (by Alaska standards) urban areas.
Can I explore Kodiak Island without a car?
Absolutely. While you always want to use caution because of the famously large Kodiak grizzlies, this island, referred to as the Emerald Isle of Alaska, has plenty of options for walking, biking, hiking, or having guided tours to explore to your heart's content.
Can you travel Alaska without a car?
Yes. The degree to which you can get around might be a little limited, but not nearly as much as you might expect. This is especially true if you take advantage of resources like local guides, friendly locals, and the multiple transportation options for locals and tourists alike.
How do people get around in Alaska without a car?
There are multiple ways. In most places a bicycle, bus, or even walking can get you everywhere you need to go and then some. There is also a certain type of helpfulness that only comes from living in an area that can be extremely hard climate-wise. This leads to a certain type of helpfulness that includes people checking to see if you need to go somewhere, offering a ride or guidance, and hitchhiking culture is quite common.
There are many different ways to go where you need to go. Dog sleds and cross country skis are much less common by hey during the winter season in certain places these become viable, as well.
Budgeting for Alaska Travel Video
There Are So Many Ways to See Alaska
While having the ability to rent a car and stop at scenic rest stops and random points along the road is a great way to see incredible parts of this truly wild and enormous state, you can actually see an incredible amount without one. Don't feel like you can't get a once in a lifetime experience without a car, because the Last Frontier lives up to its name.
You could easily spend 2 weeks just around Juneau and have that experience. Or the Kenai. Or Anchorage, Denali, or Fairbanks. Or exploring what are undeniably the most stunningly naturally beautiful rest stops of any state. In other words, you don't need a car to have a truly amazing experience.
Do your research, decide on what places interest you the most and how you want to spend your vacation, and then research local options in that area to know what busses, guided tours, air tours, and other options exist each step of the way.
You might be surprised just how many options you have, and when an adventure like Alaska calls you, you can't let something like a lack of a car prevent you from experiencing it in full!